This post contains affiliate links, which means I may receive a small commission, at no extra cost to you, when you make a purchase. Please, read my affiliate disclaimer for more details.
Many people are leaving the corporate world in search of legitimate online jobs so they can spend more time with their families, be their own bosses and still make good money while at it.
But, for you to make good money you need to land high paying online jobs.
That's why I have to put together a list of 20 online jobs that pay $20 or more per hour.
One thing to keep in mind, though, is this type of work may require prior experience or a certain skill set.
Different careers have different requirements.
For example, if you want to become a bookkeeper, taking a look at the free bookkeeping ecourse found at Bookkeeper  Launch would be ideal.
Similarly if you want to become a proofreader, Caitlin Pyle's free proofreading workshop would come in handy, as well.
We will cover all this and more in detail below. So, keep reading!
The Best Paying Online Jobs (Make $50 an Hour Online)
Some of these opportunities are online jobs that pay hourly while others depend on an upfront time or monetary investment. By building your own business, you can potentially set your own hourly pay and make up to $50 an hour online.
Related: How to Make $100 a Day Online
1. Earn More Than $20 per hour as a FREELANCE PROOFREADER
Did you know that you make up to $36,000 per year as a freelance proofreader? Well, now you know!
There is a high demand for freelance proofreading skills because bloggers want perfect content for their blogs, and students want their essays to look just right. Not to mention authors who want their books to become bestsellers.
You can absolutely make money from home by taking online proofreading jobs.
Caitlin Pyle is a successful freelance proofreader earning $50,000+ per year just by proofreading documents from home.
She created a FREE 45-minute freelance proofreading workshop to show beginners how to make money online simply by proofreading documents from home.
You can find proofreading online jobs that pay hourly on sites like American Journal Experts and Cactus Communications.
 Click here to get instant access to her FREE proofreading e-course and workshop!
2. Earn $80 Per Hour as a bookkeeper
Virtual bookkeeping jobs are in high demand nowadays and you don't need the experience to get started. All you need is an eye for details and a caring spirit. And the best part is that you can earn up to $80 per hour.
Ben Robinson of Bookkeeper  Launch specializes in teaching people how to start their own virtual bookkeeping businesses and land some high paying online jobs without experience.
He has a FREE 3-part video series that shows you everything you need to know about bookkeeping
Get this bookkeeper  launch FREE 3-part video series today!
 3. earn up to $75 by SHARING YOUR OPINIONS
If you love sharing opinions, you can take part in the highest paying online surveys and earn good money while at it. Companies like Swagbucks and Survey Junkie will pay you real money to share your opinions about certain products or services.
A company like Vindale Research has taken the online survey game a notch higher and will pay you up to $75 per survey.  Such surveys take 20 to 45 minutes maximum.
If you have some time on your hands in the evenings or during lunch hour, you can take surveys for money. There is absolutely no pressure on when to do this.
Other noteworthy paid survey companies
Related: 28 Jobs that Pay Weekly
4.  Make $24 Per Hour TEACHing ENGLISH ONLINE
Teaching young kids in your spare time can actually earn you money if you don't have a job. We have online teaching platforms like VIPKid and Magic Ears that are always looking for new teachers to add to their team.
You just need a faster internet connection, a pair of headsets and Skype installed on your computer.  Each company offers online tutoring jobs that pay hourly, and you can expect to earn up to $24 per hour.
5. DOWNLOAD THE NIELSEN APP AND EARN $50
Nielsen Computer and Mobile Panel is an amazing company that will send you $50 if you agree to keep their app on your internet browsing devices.
They normally conduct internet usage research and the only way they can do this successfully is if their app stays on your devices.
And so they give a little incentive to encourage people to keep the app on their phones or computers for as long as it's needed.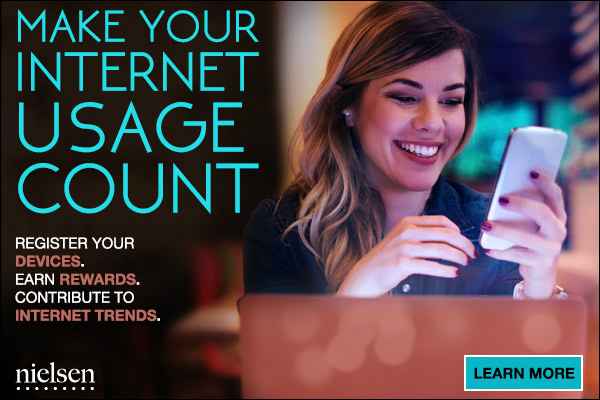 The app is lightweight, 100% free and very legit.
Getting started is quick and easy. Just sign up for a free account here then register your computer or smartphone.
They also give out $10,000 every month. If you are lucky, you can earn more than $50.
Click here to sign up and claim your $50 today!
6. Make Over $20 as a Lyft Driver
Love driving around town? Joining a ride-sharing company is one of the best paying jobs. You can join Uber or Lyft and make some extra cash in the evenings or over the weekend.
See this as a great opportunity to meet new and interesting people while making money doing something you love.
A company like Lyft will even send you a $300 bonus when you join them.
A few things to note is that you must be 21 years of age, and have 1-year driving experience, which I'm sure you do have.
Does driving sound like a plan?
Click here to claim your $250 bonus from Lyft!
More High paying Online Jobs that Pay Hourly
These next few companies offer some of the best paying online jobs that pay hourly. You can earn more than $20 per hour with these.
7. Chegg
Chegg is a tutoring company that offers jobs that pay $20 an hour. They have flexible working hours. You work whenever you want and from any part of the world. This is a good part-time job that you can do together with your day job. Most tutors earn $1,000 per month on average. Payments go out on a weekly basis.
8. Book in a Box
Book in a Box usually hires proofreaders and editors. You can make $20 or even $50 per hour depending on the job opportunity available. The only drawback is the positions are temporary. But, one thing I love about this company is they offer you training so you don't feel left out and they even surprise their best performing freelancers with gifts.
9.  Rev.com
Rev is a transcription company that pays transcribers $25 to $45 per audio hour. They have flexible working hours and you can work as much as you want. Payments go out on a weekly basis, Mondays to be precise. I worked for this company for two years and I highly encourage new transcriptionists to join.
[clickToTweet tweet="17 high-paying online jobs. Earn $20 per hour or more!" quote="17 high-paying online jobs. Earn $20 per hour or more!" theme="style2″]
10.  Working Solutions
Working Solutions is a customer support company that hires agents to work on client programs. The application process takes 15 minutes, after which you take an assessment test that takes 30 minutes. The programs pay differently but most of them pay $9 to $30 per hour.
11.  NexRep
NexRep hires customer service reps and outbound sales agents as independent contractors. Your work involves making and receiving inbound and outbound calls then handling email support. They have jobs that pay $20 to $25 an hour.
12. 10UP
10UP is an app and web development company that hires web designers and developers to work remotely. They pay more than $20 per hour because their annual salary averages $80k.
13.  GitHub
GitHub a software company that hires developers, engineers and customer service reps to work remotely. If your application gets accepted you can make $60k per year or more.
14.  Buffer
Buffer is a social media management company that hires people to remotely, as well. Their open positions vary, from data analysts, app developers to systems engineers. Most positions offer $20 or more per hour.
15. Art & Logic
Art & Logic is a web development company that hires developers in the US and Canada to work from home.  You must work 30 hours or more every single week. You can make $20 to $30 per hour depending on the project at hand.
16.  APass Education Group
APass Education Group has open positions for higher education assessment writers, K-12 Science, Math and Social Studies, Illustrators and Layout Artists. They pay $20 to $30 per hour depending on your skill level and the subjects you are teaching.
17.  iMedix
iMedix is a medical coding and transcription company that pays medical coders $21 to $26 per hour. They have both Independent Contractor and employee positions. You must have a headset, a microphone, and Infinity IN USB-2 foot pedal before you apply.
12.  American Journal Experts
American Journal Experts has lots of open positions for translators and editors.  They pay $15 to $30 per hour.
Looking for other ways to make more money online? These methods will help you make more than $20 per hour!
Starting a blog is the best way to make money online. It's passive income that keeps growing month after month and you can monetize it the way you want.
You can do ad placement and earn every time someone clicks on those ads, or you can sell your own ebooks, ecourses or create a "hire me" page. I've just started blogging and I'm loving the journey.
Stay tuned for my income reports! In the meantime, check out my step-by-step tutorial that shows you how to start a WordPress blog on HostGator.
Taking online surveys can be a great side hustle if you have some time to spare. Most surveys take 20 to 30 minutes to complete and most companies pay $10 to $15 per survey. Some paying as high as $100 per survey.
Here is a list of the best survey sites to check out:
Become a Virtual Assistant
Virtual Assistants are in high demand nowadays. It won't take you long before you land a high paying job. We have lots of virtual assistant companies and job boards looking for people just like you.
You can apply then get started today. But, if you want to get started the right way, I highly recommend taking Gina Horkey's course:  30 Days or Less to Virtual Assistant Success. It will take you from point A to Z on matters virtual assistant.
Become a freelance writer
Freelance writing can be a lucrative and profitable business if you know what you are doing. You can read Gina Horkey's interview on how she got started and how she earned $4,000 per month working part-time. She also has a freelance writing e-course that shows you how to start and grow a freelance writing business.
Related: 45 Late Night Jobs