Proofreading is a flexible career that you can pursue while working from home.
We all take different paths when pursuing our life goals and sometimes our goals change as we gain experience. Proofreading has been a game-changer for me! Want to know why?
Proofreading offers so much more than just the black and white picture you have in your head where you're sitting at your desk just reading words on a page. That picture needs some color!
In addition to getting paid to proofread, think of the freedom that comes with starting a proofreading business: you control your own hours, set your salary, and choose the jobs or clients you want to take on.
Intrigued? I bet you are! Here you will find all the ins and outs of how to become a proofreader online. The ultimate guide to proofreading will answer your questions from salary ranges, where to find clients and how you can increase your chances of landing proofreading jobs.
What is Proofreading and How Much Can You Earn?
Proofreading, generally speaking, is the final step before submission or publication. Unlike editing, proofreading focuses on those superficial edits that include grammar, spelling, syntax and the like. This step is quicker than editing and gives the writer a faster turnaround on their work.
Editing goes more into detail and looks for ways to restructure written work when needed. Editing requires a deeper look into the work to ensure the publication flows, speaks to the audience, tells a complete story and doesn't change tenses throughout. It also takes place multiple times during the writing process.
On a spectrum, a proofreader can earn between $32,000 and $65,000 per year. However, the average salary lands around $45,000, according to Glassdoor.
There are many factors to consider when trying to determine what kind of salary you can expect. Some factors include the amount of experience a proofreader has, the budget offered by clients the proofreader works with and the location of the jobs the proofreader is taking on.
Education Requirements and Skills
It's only natural to wonder what it takes to become a proofreader. There are actually several ways to make this new career switch a successful one. However, there are things to consider when applying for proofreader jobs and that includes the education and skills portion.
Education requirements to become a proofreader will vary based on the company you are trying to be hired with. Some companies will require that proofreaders have a degree in English. However, not all companies have this requirement and will often hire a proofreader based on proven experience alone.
When starting out as a proofreader, your skills will develop with each job or project you complete. Be sure to request testimonials from clients you work with and/or create an online portfolio of those jobs to send to potential employers.
If you can show your expertise in the form of experience and satisfied clients, oftentimes, this will assist you in being offered more proofreading jobs.
Additionally, you can go another route by starting a proofreading business. Many companies look for freelancers to complete their proofreading work for them because then they don't have to pay you as an employee. This saves the company money in the long term.
If you provide quality work, the companies may continue to use you as their freelance proofreader for future projects.
Offer these services as a freelancer and you can set your own terms and rates. It's a win-win.
Not sure where to start or how to become a proofreader online? Resources like the free webinar Learn How to Transform Your Passion for Words & Reading into a Thriving Proofreading Business by Caitlin can give you all the tools you need to get started.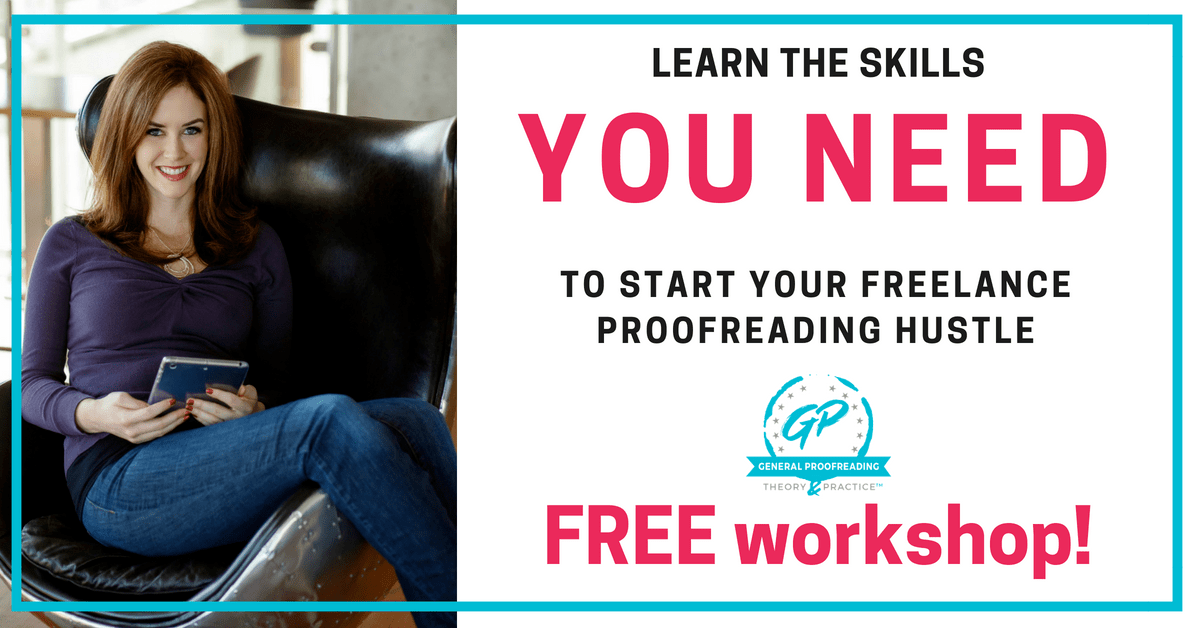 Caitlin's free webinar has hosted over 4,800 students during the last four years. The webinar is a 76-minute workshop that covers five signs that proofreading can be a good fit for you.
Lifestyle freedom, financial security and easily attracting your ideal proofreading clients are also covered. You can start your proofreading career today in just a little over an hour!
Related: How to Become a Virtual Assistant And Make $40 Per Hour
7 Steps to Become a Proofreader
Interested in learning how you can make money as a proofreader? Here is the ultimate guide to proofreading you can use to direct you through starting a proofreading business! Follow these seven steps to your successful career change.
Step 1: Choose a Proofreading Niche
You have probably heard the word "niche" a few times during your research for proofreading jobs. To put it simply, a niche is a sort of topic you are most interested in working with.
For example, you might enjoy the topics of education. This is a broad niche so you might consider narrowing it down to early childhood education, ESL or special education.
Becoming well known or versed in a single niche is helpful for clients or employers to find trust in you. If you consistently proofread for publications in a specific niche, you are able to build credibility as a proofreader because of your experience and knowledge in that niche.
It is challenging for employers or clients to find that trust in a proofreader who bounces around from niche to niche.
There are several types of proofreading jobs that you can look into, which include:
Court documents
Educational reports
Medical publications
Technical articles
Ebooks
Blog posts
Ecommerce sites
Variety of websites
All of these job types are profitable options and can help you establish yourself as a credible, career-driven proofreader.
Step 2: Decide Between Clients or Jobs
What is the difference between working for clients directly or finding proofreading jobs? When you choose to work with clients directly, you have more control over the types of work you accept and how much you want to get paid to proofread.
This is the part where you can become your own boss and make proofreading a career on your own terms.
Accepting a job as a proofreader within a company sounds appealing because you have that guaranteed employment status, financial stability and guaranteed work.
Unfortunately, you don't have a choice in the type of proofreading assignments you accept. That can be daunting. You are also tied to the compensation terms of the company.
However, consider which option is most important to you by weighing the pros and cons.
If you want an online job that pays hourly, then start applying to companies that hire proofreaders by the hour. Conversely, if you want to pick your own clients, work your own hours and set your own salary, then keep reading this ultimate guide to proofreading.
Step 3: Set Your Prices
As previously mentioned, when you decide to work with clients directly, you have the flexibility to set your own pricing. How awesome is that!
You decide how much you want to make from a project and that pricing can be applied to several other projects down the line.
The national salary range of freelance proofreaders begins at $41,000 and goes up to $87,000, with the average being nearly $61,000. The reason the range is so broad is dependent on the skills, experience and education of the proofreader.
As a beginner, you will likely make a salary that is on the lower end of the spectrum versus a proofreader who has been doing this for years and making a salary that is higher.
This isn't to say that you cannot make a high salary. On the contrary, it shows you the value of proofreaders and how you really can get paid to proofread.
Consider how much money you will make in the beginning and as you gain experience, give yourself a raise here and there to show your worth.
Step 4: Build a Portfolio
One of the most efficient ways to display your skills is by publishing your own content on a blog or a website that is easily accessible to clients. Use this tutorial to set up an online portfolio website.
If you're just starting out, this part might seem challenging to you given that you don't exactly have a clientele base built up.
Many ways proofreaders get their portfolios up and running is by offering discounts on their services, proofreading "X" amount of articles or pages in your niche for free, showcasing client testimonials, etc.
Step 5: Market Your Talent
You can find proofreading opportunities through social media searches. You'd be surprised how many Facebook groups are dedicated to hiring or even searching proofreader hashtags on Twitter.
Additionally, create your own business page on Facebook and post your services there to let others know what you can do for them. Be engaging and consistent in keeping your page up-to-date. Clients can add reviews of your services on this page as well.
If you have a blog, this is another great opportunity you can take advantage of by showing your own written work. You can then link to your posts through Pinterest and generate traffic to your site.
Additionally, you can display on your blog site that you offer proofreading services and include how clients can get a hold of you quickly for a free consultation.
You can also take the time to learn about SEO tactics and content marketing to further your reach.
There are also opportunities in cold pitching companies. Cold pitching means you send a pitch directly to a company or business you want to partner with.
In the email, you tell them how your proofreading skills will benefit their company. Don't forget to send a follow-up email if you don't receive a response the first time!
Step 6: Train to Be a Proofreader
Continue to enhance your skills and knowledge in the proofreading field by taking the proper training to be a proofreader. You can do this in several ways. Taking Caitlin's free webinar on proofreading will be beneficial to your career as a proofreader.
Additionally, you can join Facebook groups to ask questions and learn from others who have different experiences as proofreaders.
Another way to enhance your skills is by signing up for free newsletters like the Merriam-Webster Word of the Day emails. Learning a new word each day will develop your vocabulary and make you more marketable by showing versatility with your English language skills.
Lastly, incorporate some reading time into your daily routine to become familiar with recognizing appropriate grammar and spelling. This should be part of your business strategy each day. Start with just 15 minutes of reading in the morning and 15 minutes before bed. Adjust accordingly as needed.
Step 7: Over-Deliver On Your Services
This goes without saying, but each client or job you get in proofreading is unique and has different needs than the last.
Every job you complete should be impeccable, timely and professional. Having such a track record could lead to more work whether that be on-going projects with clients or through referrals.
You can over-deliver on your services by:
Giving yourself a realistic timeline and delivering the finished product to the client before the deadline;
Ensuring the work you complete is in line with the client's desires;
Listening to your client's needs and incorporating them into your work;
Communicating often with your client whether that be to check-in, ask for clarification or simply providing them an update on the work.
FAQ & Tips to Make Money as a Proofreader
Here you will find some frequently asked questions that many aspiring proofreaders have. It's natural to feel uneasy when jumping into a new career because there are many questions to be answered. Take a look below and learn more about how you can get paid to proofread.
Related: Best Paying Online Jobs
Are there tools or resources to aid beginner proofreaders?
Absolutely! There are several tools available to proofreaders, including free and paid tools. These tools include:
Grammarly: This online tool is an automated grammar checker used by many writers and proofreaders. Grammarly combs through common mistakes in your writing and suggests ways to improve your work. There is a free and paid version, depending on the kind of resource you are seeking.
FlexJobs: This site offers legit proofreading jobs if you're unsure of where to start. Many companies place ads for proofreaders on this site. FlexJobs prides itself on offering legit jobs and no spam accounts, unlike other online job boards. This resource offers a variety of membership service packages so you can choose the best option for your budget.
Webinar courses: Transform Your Passion for Words & Reading is a great resource that is free to you and can help you begin your proofreading career.
Proofreading quiz: Take this free proofreading quiz to help you decide if proofreading is right for you. The quiz covers a variety of common spelling and grammatical errors that are most often missed. Can you spot the errors?
APA and MLA style guides: Available for purchase through Amazon or other bookstores are writing style guides. These guides are great resources to have on hand to refer to when assisting your clients in their proofreading. Each style has different requirements. Therefore, it is important to know the differences between them and adjust accordingly.
Is a professional proofreader certification required?
According to Caitlin Pyle, creator of Proofread Anywhere, you cannot become a certified proofreader because a certification does not exist. If you take her online course, you can however show clients your certificate of completion. But it is not an official certification, and you are not required to become certified in any way.
Related: How to Become a Transcriber Online
Where can I find proofreading jobs if starting a business isn't for me?
There are several job boards available to help connect you to clients who need proofreading:
FlexJobs: A paid service offering legitimate jobs with no scam accounts.
Fiverr: A free site offering jobs from a variety of clients. This site is ideal for beginners as it offers lower paying jobs to help boost your portfolio and experience.
Proofreading Services: Proofreading Services allows you to get hired as a proofreader through the agency and then they match you with clients based on skill level, experience, and niche.
Related: Proofreading Services Review: Is it Legit or a Scam?
What Content Will You Get Paid to Proofread?
If you're ready to make the switch from one career to the next, proofreading is definitely a fulfilling career to choose. On the other hand, if you're looking to make some side money and dabble in a new field, proofreading can assist you with those goals as well.
After reading this ultimate guide to proofreading, you now have the tools you need to begin your new career! There are free resources, salary information and ideas for where you can begin looking for work.
How do you feel about the choice to become a proofreader from home? There are tons of different types of written material you could proofread. Which direction will you choose?