This post contains affiliate links, which means I may receive a small commission, at no extra cost to you, when you make a purchase. Please, read my affiliate disclaimer for more details.
There are times when you desperately want to make $50 fast so you can buy groceries or pay your overdue bills but just don't know where to start.
And, we all know how frustrating it can be when you are behind on your bills. I have been in these same shoes and luckily found a way around it.
Thanks to the internet, I found simple tasks that you can complete and make 50 a day!
Some tasks will earn you more money and some will earn you less. But, doing them together will definitely get you more than $50 a day.
I have outlined 11 simple but effective ways to make a quick $50 online or more.
Best Ways to Make $50 or More Fast
Wondering how to make 50 dollars a day online free? Check out these 11 ways to earn fast cash when you're in a pinch.
#1. cLAIM A Free $50 fROM THE NIELSEN cOMPUTER pANEL
If you love using the internet as I do, you will be happy to know that Nielsen Computer and Mobile Panel will send you a free $50 per year just to download and install their app on your phone.
Yes! This is the best way to describe passive income. It's money you earn for doing close to nothing.
All that is required is for you to register all your devices. It can be a computer, a tablet or a Smartphone. Download the Nielsen app and have it installed on all these devices then use your devices just like you would do normally. And bam! You earn $50 just like that!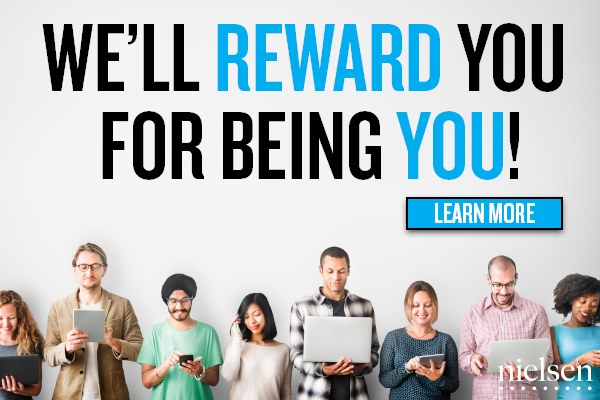 #2. Earn Cash Back (FREE Money) with Rakuten
Rakuten is a cashback website that pays in many ways.
For starters, Rakuten will send you FREE money when you sign up as a member. That's right!
You will receive a $10 sign up bonus that you can transfer to your PayPal account or redeem for Walmart gift cards.
The second way to earn with Rakuten is by referring your friends. Rakuten has a referral program that earns you $50 for every two people and they sign up through your affiliate link.
They normally pay $5 per referral but have a special offer till 30th June that will see you banking $50 for every 2 qualified referrals.  So, if you get 100 people to sign up that's $2,000. The opportunities for making money are endless here.
The third way to make money with Rakuten is to use the cash back option. I normally say that the best way to make money is to save money.
Rakuten has daily deals, discounts and promo codes that you can take advantage of to save huge money from your online shopping.
Download and install the Rakuten browser extension so you can easily be notified of new deals and discounts.
Take a look at the image below to see how much you can save if you purchase through Rakuten.
Check out this list of cashback sites for more opportunities to earn money while shopping.
Click here and start earning extra cash with Rakuten
#3. Get Paid to Watch Videos
Love watching YouTube videos? I've got some great news for you.
Swagbucks and InboxDollars are two get-paid-to websites that are happy to pay you to watch videos from the comfort of your home. Doing these alone won't help you make 50 a day, but it's a start, and every little bit counts!
They have fun videos of cute animals or cooking shows that you will love. Nothing boring or spammy.
And, did I mention that you will make $10 when you sign up with these companies?
Yes! Swagbucks and InboxDollars will pay you $5 each when you register.
Care to learn if Swagbucks is safe?
Click here to join InboxDollars to make quick cash while doing something you love and enjoy.
#4. Take Surveys
If you want to earn fast cash online, take paid online surveys.
Market research companies are happy to send you money in exchange for your thoughts and opinions about their products or services
A good company that I recommend is Survey Junkie.
Survey Junkie is a popular paid online survey site with the highest star rating on Trustpilot. Most of their surveys take 5 to 10 minutes to complete and you can earn $1 to $3 per survey.
Survey Junkie is a legit company that pays cash to its members via PayPal.
Click here and earn quick cash with Survey Junkie
Other reputable and trusted paid survey sites are:
Related: More Websites that Offer a Sign up Bonus Instant Withdraw
#5. Join Fiverr
Fiverr is a great online marketplace to join if you're wondering how to make 40 dollars fast.
Fiverr sellers will hire you to do a number of things.
Services range from long-term projects like building websites to completing simple tasks like singing a 2-minute birthday song or impersonating a celebrity.
And guess what? You earn a whole $5 for the two minutes you spend singing. Get 5 singing gig jobs and you already have $25 in your pocket. Multiply that by 2 and you get $50.
This is why Fiverr has become a big brand in the gig economy that everyone is talking about.
It gives you the flexibility to offer whatever services you want, whenever you want and charge however much you want.
Click here to start earning quick cash with Fiverr.
#6. Get Refunds on Stuff You Already Bought
Did you buy stuff online and the prices suddenly dropped? Well, those stores owe you money!
We have a free cool app called Paribus that makes sure you get your refunds back. This is one of the easiest ways to get fast cash online.
So, how does this work?
Sign up for a free Paribus account and allow it to scan your emails for any purchase receipts. These receipts may be from hundreds of online retailers, and that's no problem. Paribus has got your back.
You don't even need to know that there is a price drop. You'll just receive the refunds once the whole process is over. How cool is that?
Click here to sign up for a free Paribus account and start getting refunds on all your online purchases.
#7. Deliver Food at DoorDash
DoorDash is a reputable business to work with if you're wondering how to make 50 dollars a day. The company is among the best food delivering services to work for this year so let's look at how much you can earn. You can earn up to $25 per hour just by delivering food to DoorDash customers for up to $750 per week.
Worried that you don't have a car? No problem! DoorDash allows you to use a bike, a motorcycle, a scooter if you have one, or even walk if it's not too far.
This is a great way to earn 50 dollars a day if you have a few hours to spare. It's flexible and pays every single week.
Indy Gold is a dasher at DoorDash and she makes $700 every week. Learn more about her story in the video below
Click here to start earning $700 per week on DoorDash.
#8. Rent Your Free Space on Airbnb
You can potentially make 50 a day by renting an extra room in your apartment or your house. You do this by creating a free Airbnb account here.
As an Airbnb host, you have the freedom to list as many rooms as you like and charge as much money as you want.
Forget traditional listing that's done on Craigslist full of scams.
Airbnb is a trusted listing company that offers you the convenience to communicate with your guests on the amount to pay, rules and regulations and any other issue you would like to discuss before the guests arrive.
Become an Airbnb host and start earning money from home.
And, there you have it folks! 11 simple and effective ways to make a quick $50 online or more.
Know other ways to make money online? Share them in the comments below
Related: How to Make $100 Fast
#9. Become a Lyft Driver (and Get $300 Bonus)
If you have time on your hands you can turn miles into money by driving people around and earning extra income.
Lyft is a trusted company that has been around since 2012 and paid over $700 million in 2016 alone.
Signing up as a Lyft driver is pretty easy. You just hand in your application and within 48 hours you get approved and start making money fast online.
Start driving with Lyft and earn a $300 bonus after your first 100 rides. This isn't so difficult to do reach if you have a lot of time on your hands. You will do something you love, which is enjoying rides and then make money while at it.
#10. Review Music at Slice the Pie
You can also make money fast today by reviewing music at Slice the Pie.
Slice the Pie is a paid music reviewing site that pays you to give honest feedback on uploaded music. You will earn cash online on every review you leave.
They do this to help upcoming musicians to know what the crowd thinks of their songs.
Your reviews must be well thought out and in good English. Generic reviews will be rejected and you won't get paid.
Slice the Pie also has a referral program and you can earn money by referring others. You will receive a cash bonus every time they review music.
This is a legit company that pays via PayPal twice a week.
Click here to start earning cash on Slice the Pie.
#11. Get Paid to Shop on Amazon
If you love shopping on Amazon and have a few minutes to spare, you can earn extra cash instantly.
ShopTracker is a shopping website owned by the Harris Poll, a market research company that measures public opinion on brands in the US.
ShopTracker will ask you to share your Amazon purchase history and in return, they will send you a free $3 Visa gift card plus $3 every single month or $36 every year.
You don't have to do anything else from now on. Just let ShopTracker find out what you and other Amazon users mostly buy and they'll keep sending you monthly or yearly checks.
Click here to start receiving yearly checks from ShopTracker
How to Make 50 Dollars a Day Online Free
Can you really earn 50 dollars a day working online? Absolutely. But it's going to take hard work, multiple income streams, and flexibility. If you commit to multiple ideas that fit your skills on this list, then you'll meet your income goal in no time.
Popular Posts About Making Money:
Like this post? Pin it!