Cashback sites are a great way to save money while shopping online.
We have some amazing companies on this list that can pay you to shop at your favorite stores.
Online shopping is something that we all do on a regular basis. Why not get rewarded for our efforts?
This works by cashback sites partnering with online stores nationwide.
Every time you make a purchase, the store sends money (commission) to the cashback sites, then passes out a portion of that money to you in the form of a cashback.
You can get up to 20% cashback on your purchase.
These sites are not just limited to shopping, deals, coupons and promo codes. Some of them have fun activities like taking paid online surveys, watching videos, completing promotional offers, etc. Swagbucks is a great example. You can take advantage of that as well to earn even more rewards.
20 Best Cashback Sites for 2020
#1. Rakuten
Rakuten is one of the best cash back shopping websites for deal shoppers because it saves you money when you make online purchases using their links. Rakuten normally has discounts, deals and promo codes that allow you to buy products at a cheaper price than you would if you were to buy them directly at retail stores.
They have an easy-to-install browser extension that allows you to see how much you can save from each item before you go shopping. So, get that installed today.
Shop through Rakuten and save money on hotels, fashion, health, and electronics. This cashback site will help you find coupons and earn cash back on all your purchases at over 2000 stores countrywide.Click here to join Rakuten and get cashback on all your online purchases today!
Apart from cash back, Rakuten also has a referral program where you earn $25 for every new person who joins Rakuten through your affiliate link. If you have lots of friends or fans on social media, you could earn a passive income without much effort.
Cashback online shopping sites have been around for the past 15 years, and new ones are still coming up. But today I want to show you the best list of cashback sites that will help save you the most money in 2020.
#2. Drop
Drop is a great app that sends you cash back when you shop using your debit or credit card. Drop doesn't work with cash purchases, unfortunately.
When you download and install the Drop app, you will be able to see offers that qualify for cashback instantly.
In addition to cashback, you'll also get ongoing rewards when you shop at your favorite stores
Getting started is quick and easy.
Just download the drop app and have it installed on your phone. The next step after you have the app on your phone is create a free Drop account using your personal information like full names, email address etc, then connect your debit or credit cards to the app.
Don't worry. Drop is safe and secure and will not share your data with unauthorized people. They use encryption software to keep all your personal information safe.
Once you finish setting up your account, you will select 5 of the best stores that you want to shop at on a regular basis. Once you do this, you will start receiving cash back plus other rewards from these companies.
Click here to join Drop and start receiving rewards for your everyday spending!
#3. iBotta
I love iBotta because it's reputable and has been around for the longest time. It was among the first websites to introduce cashback on grocery shopping.
You will get your money when you shop, travel, dine or just using the app on your phone. They work with leading brands and retailers (over 80 retailers in the US) so as to pay you real cash whenever and wherever you do your shopping.
If you'd like to find more apps like iBotta check out this link!
Click here to join iBotta and get our $20 bonus today!
#4. Paribus
Paribus is a money saving app that sends you refunds when the prices of items, you already bought, drop.
Paribus is a reputable company and among the best cashback sites today. It has been into existence since 2014 but got acquired by Capital One in 2016. This was due to the great success it had of putting money back into people's pockets.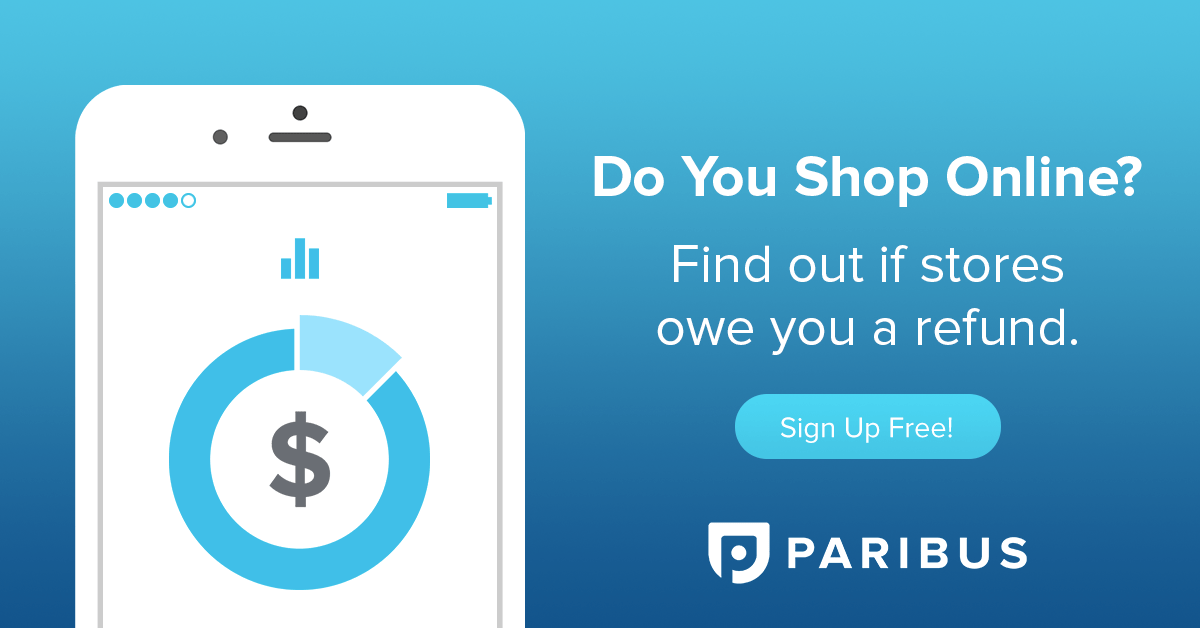 How this works is you sign up for a free Paribus account then connect it to your email address. Paribus will scan through your emails for any online purchases across hundreds of online stores, and when they find a price drop on any of the purchases, they'll send you a refund.
How cool is that? You get to have money you didn't know you had. All you have to do is connect your email account to Paribus then let it do the hard work for you.
They've partnered with over 29 retailers nationwide. They are affiliated with big brands like Walmart, Target, BestBuy, Sephora, Home Depot among others.
Join Paribus here and start getting refunds on all your online purchases!
Further Reading: A detailed Paribus review: Is Paribus Legit or a Scam?
#5. TopCashBack
Topcashback is a UK-based cashback site with over 4600 retailers both in-store and online. They have the highest cashback rates compared to their counterparts.
What I like most about this website is that they give out 100% of their commission to you (the customer).
Getting started is quick and easy. Just click here to get a free Topcashback account then make sure to shop at their partner stores. Every time you shop, a commission will be sent to your account.
They don't have a minimum payout limit and you can redeem the amount using a Visa Prepaid card, Amazon gift card or get PayPal cash. When you choose the option of a gift card, a 3% bonus will be added to your withdrawal amount.
Click here to join Topcashback and claim your 3% cashback bonus!
I just recently learned from their Topcashback reviews that apart from cashback, they also give out commissions for referrals. If you have friends and family who like saving money, you can refer them to Topcashback. And for every $10 payable cashback that they get, you earn $10.
Got friends who can benefit from this awesome cashback deal?
Refer them to Topcashback and earn a $10 bonus per person!
#6. ShopTracker
ShopTracker is a website owned by the Harris Poll Online, a company known for conducting market research for brands through paid online surveys.
ShopTracker will not send you cashback, per se, but they will send you free money if you agree to share your Amazon purchase history.
Like I mentioned earlier, their parent company is Harris Poll Online, a company known for market research. So, the aim of ShopTracker is to see shopping trends of Amazon shoppers.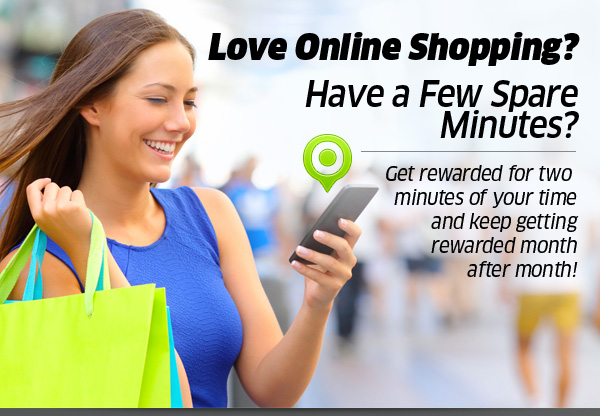 How this works is you download the ShopTracker app and connect it to your Amazon account. So, every time you make purchases from Amazon they'll be able to see that data.
Your personal information will be encrypted and won't be shared with third parties. I know this might be a concern for you. You have nothing to worry about.
If this sounds like a plan, click here to download and install the ShopTracker app then connect it to your Amazon account. ShopTracker will send you $36 every year plus a $3 sign up bonus for registering.
Click here to claim your $3 sign up bonus plus $36/year!
Further Reading: Check out this post on how to get free money: grab $664 from these companies.
#7. Swagbucks
Swagbucks is a famous app not only known for cashback but also pay out rewards for completing simple tasks like taking paid online surveys, completing trial offers, searching the web, watching videos, playing video games etc.
It has a database of 15+ million members and has paid out over $190 million since they began operations.
Swagbucks allows you to shop online at thousands of stores, not just in the US but in other countries as well. If you live in the UK, Canada or Australia you will also get cashback from your online shopping using the Swagbucks app.
Every time you spend money purchasing items, you earn "SB" points redeemable for Amazon gift cards. 1 SB is equals to 1% cashback, so the more SB points you earn the more cashback you will get from your daily shopping. Swagbucks also has a $5 sign up bonus that you receive immediately you sign up.
Related: Is Swagbucks worth it?
Click here to claim your $5 sign up bonus from Swagbucks!
#8. Groupon
Groupon is another cashback online shopping website that will will help you save up to 70% on the products you buy daily. Whether you are looking for coupons, deals, promo codes or cash back on travel, restaurants or spas, Groupon is the place to be. Most purchases will give you 6.1% cashback here.
Click here to join Groupon and get 6.1% cashback from Groupon!
#9. Checkout51
This is another cashback site that will reward you when you scan your grocery receipts and upload them to the site. Their main focus is on groceries like fruits, vegetables, dairy products etc.
They have new offers every single week for you to look at, so you don't run out of choices.
#10. RetailMeNot
RetailMeNot is an amazing site that can help you get cashback when you shop online. It will help you save money by sending you promo codes for both online and in-store retail purchases.
It's a very reputable site that generates revenue of $5 million per year according to the report released by Bloomberg last year. They have been able to achieve such high level of success through their robust and award-winning mobile app.
#11. Shopmium
Shopmium is an app that helps you to find products for sale, you buy them then upload your receipts to the site. After that, they will send you PayPal cash or through direct deposit.
One thing I love about this cash back site is that their payments are instant. There is no waiting period for approval or withdrawal.
#12. PunchCard
Another cashback site that collaborates with Target, Stuckbucks and BestBuy to bring you value for your money. After you've made a purchase(s) you are required to submit your receipt then spin the PunchCard wheel for you to win prizes.
#13. ReceiptPal
ReceiptPal is a newer app that gives you points every time you scan receipts of purchase. When the points accrue, you can redeem them for gift cards or enter into draws that can earn you prizes.
It's also wise to note that since it's a new app the amount they pay in cashback is very low, but still worth your efforts if you want to save some money.
#14. Snap by Groupon
Snap is an online app owned by Groupon that gives you cash back on your groceries. One thing to keep in mind is that these groceries must be featured in the app for it to work. Otherwise, you won't get any money.
How it works is you get the app by downloading it to your Smartphone, look for featured products and buy them, then take a snap shot of that receipt and submit it to the app. After you've completed this procedure, money will be credited to your Snap account.
They have a $20 payout threshold that one must meet before requesting a withdrawal. This is an amazing app that helps users to save and earn extra money from the comfort of their homes.
Related: 27 Real Money Apps
#15. BerryCart
BerryCart is a shopping app that saves you money by giving you discounts, offers and deals on healthy foods in form of cash back rebates. They offer deals on foods that are organic, All-Natural, Dairy-Free, Gluten-Free and many more.
The BerryCart app allows you to find products in over 25,000 locations in the US. Some of the most popular that we know of are: Walmart, Target, WholeFoods and Sprouts. Once you accrue some money in your account you can redeem it as PayPal cash or gift cards.
#16. SavingStar
SavingStar is a free and easy to use grocery shopping app that saves you money every time you make a purchase at your favorite store. They have collaborated with over 70,000 retail stores nationwide and their payouts are among the highest.
One thing I love about this app is that everything is automated and you don't have to clip or print your grocery coupons. They normally have weekly deals at the supermarket or drugstores like Safeway, Target, Walmart, Kroger, Stop & Shop among others.
#17. Shopalong
Join Shopalong and get paid every time you complete fun and rewarding assignments at your favorite locations that you visit. The assignments include completing certain activities that take less than 5 minutes.
They can be as simple as giving details of all the stores you visit, sharing your experiences and then taking pictures of your receipts.
#18. Fetch Rewards
Fetch Rewards is a shopping app that automatically earns you rewards every time you scan your grocery receipt(s). Unlike other cashback sites like iBotta or Ebates, you get your rewards no matter what you buy or where you buy it as long as it's on offer, you will get rewarded for it. Their rewards come in form of points that you can redeem for gift cards at Target or Amazon.
Another alternative is you can give your points to charity at RedCross. The maximum points you can get per offer are 2000 points, and 1000 points get you $1. So basically, you will be getting $2 per offer max.
#19. Shopkick
Download the Shopkick app and earn gift cards every time you shop at your favorite stores. This is another awesome shopping rewards program that offers you deals at high profiled stores like Walmart, Walgreens, Target, BestBuy, Starbucks, eBay, Groupon and many more!
This app has earned its customers over $63.8 million in free gift cards at the retail stores mentioned above.
#20. MobiSave
Do you want to earn money back on your everyday shopping? Then get the MobiSave app! This app will help you to locate and save the products that you want to buy.
Make a purchase at any retailer, so long as it's supported then scan your receipts and submit them. After doing this, you will receipt your money in your PayPal account. Simple as that!
#21. ReceiptHog
Join ReceiptHog and earn rewards that you can redeem for PayPal cash or Amazon gift cards. All you have to do is take pictures of your receipts from stores and restaurants then upload them to the app. The app has paid out $2.5 million to its participants so far.
Final Thoughts
As you have seen above, there are quite a few cashback sites and apps that can be taken advantage of today to save money. Consumers spend a significant amount of money on gifts, groceries and electronics. Saving an extra $500 will go a long way in reducing your daily expenses.
Like this best cashback sites list? Know other links that I can add to this list of cashback sites to help people save even more money? I'd love to hear from you. Share your thoughts in the comments below!
Liked this post? Share it on Pinterest!