This post contains affiliate links, which means I may receive a small commission, at no extra cost to you, when you make a purchase. Please, read my affiliate disclaimer for more details.
Passive income – who doesn't want it? We all do, right? But, how can you identify the best passive income ideas that can earn you money while you sleep or without much effort?
This is a question that lingers in the minds of many, mine included. So, today I researched the best ways to make passive income that you can implement right away.
These are amazing passive income sources that you can use to build wealth for months or even years to come. But wait…
What is Passive Income?
I define passive income as the residual income you earn when you are not actively exchanging your time for money.
You could be in bed sleeping, out with your friends or on vacation in the Bahamas, and the money will just come in.
We have two types of passive income. The first type involves passive income streams where you work once (invest time and money upfront) then get paid over and over again. A perfect example of this is writing e-books, creating online courses, starting a YouTube channel or creating an online store.
The second type involves little to no effort on your part like signing up with Paribus so you can get refunds whenever there are price drops on items you buy daily.
Whatever the case, these are the best sources of passive income you don't want to miss out on! So, let's look at how you can generate passive income in 2019!
17 Best Passive Income Ideas 2019



#1. Claim $50/year in Passive Income
If you are searching for how to create passive income with no money, you can check out this cool Nielsen app. I'm sure you will love it.
Nielsen Computer and Mobile Panel is a company that sends you $50 every year in residual income if you download and install their app on your phone. The app is 100% free!
This is money you earn for doing close to nothing. Don't pass up this passive income opportunity.
I encourage you to register all your devices. This can be your computer, tablet or a Smartphone. Download the Nielsen app then have it installed on all these devices. And, bam! $50 is all yours!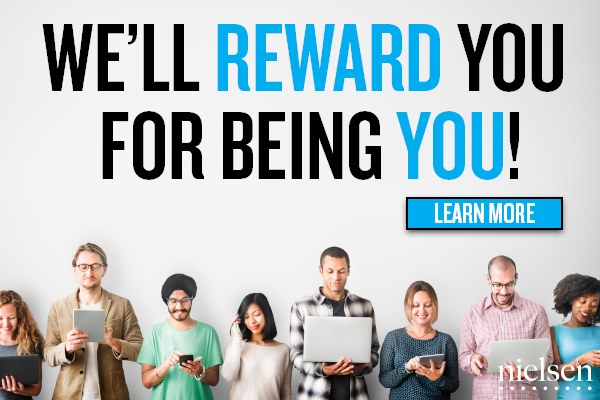 Click here to earn $50 with the Nielsen app!
#2. Get passive income Opportunities from Rakuten
Getting cash back and referral commissions from Rakuten are two forms of passive income opportunities you shouldn't pass up on.
Rakuten is a cashback site that saves you money when you make online purchases using their website. They normally have discounts, deals and promo codes that allow you to buy products at a cheaper price than you would if you bought directly from retail stores.
They have an easy-to-install browser extension that allows you to see how much you can save from each item before you go shopping. So, get that installed today.
In case you are wondering how to make passive income with Ebates.  They have a refer-a-friend program that can earn you lots of commissions. Rakuten pays $5 for every new customer who joins their website through your affiliate link
You can promote Rakuten on your blog or using social media platforms like Facebook or Pinterest. Make sure that the people you refer signup through your affiliate link, otherwise you won't get the referral commission.
Look at the image below to see how much you can earn. The more people you refer the more money you make.
You will also receive a $10 sign up bonus in addition to the referral commission.
Click here to claim your $10 sign up bonus from Rakuten!
#3. Get Passive Savings with the Trim App
Trim app is a free money-saving app that will track all your subscriptions and cancel the ones you no longer use so that you can have more money in your pocket.
See Trim as a personal financial manager working 24/7 to save and make you money.  Money Pantry has a detailed Trim review and shares how this app can lower your bills and cancel old subscriptions.
Click here to start saving with the Trim app!
#4. Earn Passive Income From Stuff You Do Daily 
Daily activities can be shopping online, searching the web, watching funny videos, taking paid online surveys or taking advantage of promotional offers.
Paid market research companies like Swagbucks or InboxDollars will send you free gift cards for completing these daily activities. They also have PayPal cash if you don't want redeemable gift cards.
I added this to the list of passive income ideas because as long as you are taking part in the activities I mentioned, you will get paid. And these are tasks we do on a daily basis.
Click here to start earning passive income from your daily activities!
#5. Get Residual income From Lending Club
Lending money is an old passive income idea that you can take advantage of today. But, thanks to Lending Club, you won't be lending money the old fashioned way, which involves a lot of risks. Lending Club is an awesome website that connects borrowers with private investors.
As an investor, expect an investment return of 6-10% in interest rate.  It is less risky because Lending Club allows you to lend as little as $25 per person. This is a great way to earn residual income from home.
Click here to join Lending Club and starting earning 6-10% interest!
#6. Credit Sesame
Generating passive income on a continuous basis is one way of building your wealth. But, this can only be possible if your credit score is in check. So, your credit score really matters if you are to truly grow your net worth.
Not sure if your credit score is in good shape?
Why not use this free tool called Credit Sesame to track and monitor it. It just takes 90 seconds and will help you earn more passive income quickly.
Click here to get a FREE Credit Sesame account today!

#7. Find Out If Stores Owe You Money 
Don't have a spare room? No problem! Here's an easy passive income idea you can try.
I know you shop online all the time, but did you know that you can get refunds when prices of those products drop?
Yes. We have an amazing app called Paribus that gives you refunds on all your online purchases.
Getting started is quick and easy. Just sign up for a Paribus account then connect it to your email address. The app will track all your online purchases from now on. Whenever there is a price drop on the items you purchase, Paribus will get you a refund.
Want cash back on all your online purchases?
Click here to register for Paribus and start getting refunds!
#8. Create Passive Income with a  Drop Shipping Business
Drop shipping is a profitable business earning people lots of passive income nowadays. If you don't know what drop shipping is, this is a business model where you set up an online store using Shopify and get manufacturers to sell products on your behalf.
These products can be about anything, so long as there is a market for it.  You can sell dresses, toys, kitchenware, camping materials, you name it.
Whenever a customer makes an order, you reach out to your manufacturer or supplier then they send the product(s) to the customer directly.
Make sure the price you are selling at is higher than the price you are getting the products from the manufacturer.
Drop shipping falls under the best passive income streams that you should start today.  You don't store inventory, you don't pay for products upfront, and you don't even package the products.  Everything is handled by the manufacturer.
If you are interested in drop shopping, check out this article on how to launch your online store with Shopify then sign up for a 14-day Shopify free trial here.  It will be worth your effort.
#9. Start a Money Making Blog
Starting a blog is one of the best ways to earn passive income. I know, there is an initial investment of time and money upfront, but once everything is set up, expect to earn good money from your blog for many more years to come.
You can start making passive income through affiliate marketing,  selling your info products, starting a membership site or having ad placements on your blog.
I started my blog last year, and while doing it part-time, I'm able to make $1,500 per month on autopilot.
I have posts on this blog that make me $100 per day on autopilot. Some days are better than others. But, when I do my calculations, they add up to $1,500 every single month. 
These are my money-making posts
Affiliate Networks Bringing Me passive income
UPDATE
My page views more than doubled in the past two months. I went from 30k page views to 84k page views last month and was able to join Mediavine.
You can find out how I grew my blog traffic and the strategies I used here.
Mediavine is an ad company perfect for beginners to make money blogging. They place ads on your blog and pay you a certain amount for every 1000 sessions you get. You need 25k sessions before applying.
After two months of joining Mediavine I finally hit $1,500 last month. This is just ad income alone. I'm very happy about this news!
See image below!
---
Here's an exclusive offer for all Earn Smart Online Class readers. Start your blog for just $3.95 with Bluehost. You get a FREE domain, FREE SSL Certificate, and 24/7 customer support when you use my exclusive affiliate link. You can't find this offer anywhere else. So, hurry and get started today!
---
#10. Rent An Extra Room in Your Apartment
If you are looking for the best sources of passive income, renting your extra space is one of them.
If you have an apartment or extra room that you don't use, you can rent it on Airbnb and make passive income. Guests prefer staying in warm places surrounded by loving people than go to hotels.
Worried about renting your house to people you don't know?
No worries!
Airbnb allows you to pre-screen guests before allowing them into your home.
Just put up an ad on Airbnb, set a price, pre-qualify guests, let them stay for a number of days as agreed then receive your paycheck.
What could be more passive than this?
Have a spare room?
Become an Airbnb host and start earning passive income today!
#11. Get a High Yield Savings Account
If you are looking for a bank account with high yield savings, then go for CIT Bank. Most banks have monthly fees and their interest rates are awful, to say the least.
But, having an account with CIT Bank earns you 1.55% in interest and they don't charge any monthly fees.
Click here to open a CIT Bank account and enjoy the 1.55% return!
#12. Get $36/Year in Passive Income From ShopTracker 
Amazon is taking the e-commerce space by storm and for good reasons.
Everyone goes on Amazon to make purchases, whether it's to buy electronics, toys, clothing, books, you name it!
But, did you know that ShopTracker can pay you for all those stuff you buy?
Well, now you know!
The ShopTracker app will pay you $36 per year in exchange for your Amazon purchase history. They do this so as to understand what Amazon consumers love to buy on a continuous basis.
How this works is you open a ShopTracker account then connect it to your Amazon account to enable them to track your shopping history, and in return, they will send you monthly or yearly checks for as long as you have the two accounts connected.  If this isn't creating passive income online then I don't know what is.
Click here to start receiving yearly checks from Shoptracker!
#13. Write An Ebook
If you are looking for more ways to make passive income, you can start writing ebooks and selling them for profit.
Ebook publishing platforms like Amazon Kindle or CreateSpace make it possible for you to write e-books and sell them at a fee. I understand that they pay you royalties depending on the number of books sold in a given period, but you can also use SendOwl if you want to receive the full amount. Although SendOwl has a monthly fee.
Writing an e-book is a great way to bring in residual income. It is such a great business model where you work once then make passive income over and over again.
Stephen Pylarinos is a bestselling author who earns six figures selling e-books on Amazon. He created an excellent course that teaches beginners how to make passive income selling e-books on Amazon.
You can learn more about his proven, step-by-step system for making passive income through Kindle Publishing.
#14. Make Passive Income with Affiliate Marketing
Affiliate marketing is the best way to make passive income for people who don't have a website. If you don't know what affiliate marketing is.
This is where you promote other people's products and earn commissions when customers buy through your affiliate link.
Some products just have one-time offers but others earn you commissions for as long as the customer is using the product.
Two great products with recurring commissions are ConverKit and SendOwl.
If you want to learn more about affiliate marketing, Michelle Gardner has amazing affiliate marketing strategies that you can use to make up to $50,000 per month.
#15. Get Passive Residual income from Online Courses
If you are knowledgeable about a particular topic, subject or interest, you can record videos or create PowerPoint presentations then sell them as courses on Teachable,  Thinkific or Udemy.
A platform like Teachable has robust, built-in features that allow you to create courses, enroll students and collect payments through PayPal or to your bank account.
If you have a course that you want to sell and are not sure where to host it, I encourage you to give Teachable a try.  Online courses can earn you lots of passive residual income for years to come.
Click here to create your course and start generating passive income!
#16. Sell Your Photos Online
If you've got talent and can take beautiful pictures, selling your photos online can be a great source of income for you.  Stock photo sites like iStock will sell photos on your behalf and send you checks every single month, mostly in royalties.
Best Stock Photo Sites for Inspiration

#17. Create a YouTube Channel



If you are knowledgeable about a particular topic and feel confident in front of the camera, you can start a YouTube channel and generate lots of passive income. Your videos can be on any topic so long as there is a market for it.
PewDiePie is a YouTube channel that generates millions every single year and the guy just records himself playing video videos in no particular order.
Want to start a YouTube channel? This might interest you. Click to find out how much YouTube pays per view!
Update:  YouTube now requires you to have at least 1000 subscribers before thinking of monetization. But, this is still a great passive income stream.
Final Thoughts
After going through the list, I believe that you now know how to make passive income online and you can choose the best passive income ideas to bring residual income in 2019.
Creating passive income is as easy as doing 1,2, 3. The internet has brought to light so many forms of passive income ideas to help you supplement your income.
As I mentioned earlier, you will have to invest in some of these ideas upfront before you can receive rewards passively. So, take note of that before getting started.
Have you used any of these passive income ideas or made money with any of the passive income opportunities I've mentioned? Know how to make passive income from home? I'd love to hear from you. Leave a comment below!
Liked this post? Pin it!