This post contains affiliate links, which means I may receive a small commission, at no extra cost to you, when you make a purchase. Please, read my affiliate disclaimer for more details.
Affiliate marketing is the easiest way to make money online. I say 'easiest' because most of the hard work has already been done for you.
All that's left is just getting the products in front of your customers, let them buy and you get your commission even if it's at 2:00 AM in the morning!
Successful blogs like Smart Passive Income, ShoutMeLoud and Making Sense of Cents make thousands of dollars every single month. Most of this income comes from promoting products and services.
Affiliate programs are not created equal. Some will deliver, and some won't. So, it's up to you to sieve through, select the best affiliate programs to make money and you will be on your way.
On that note, I have put together an ultimate list of 58 top affiliate programs for bloggers and content creators just like you and I.
So, let's dive in!
Related: 
HIGH PAYING AFFILIATE PROGRAMS
Bluehost is a web hosting company with a high paying affiliate program. They paid over $5 million in commissions in 2016 alone. You will get paid $65 for every qualifying sign up to their website and have a 60-day cookie .
Click here and start earning with Bluehost!
Shopify is an e-commerce site perfect for creating and managing online stores. They also have a high paying affiliate program that can earn you recurring commissions for months on end. Shopify has a 30-day cookie.
Here's a breakdown:
You will earn the first two months of a customer's paid subscription fee (which is about $598) on standard plans and 100% bounty which pays $2,000 for new Shopify Plus referrals.
Join Shopify Affiliate Program and make upto $2,000 per sale!

3. LeadPages Affiliate Partner Program
Leadpages is a high-converting landing page software used by businesses to capture emails and generate more leads. They have an amazing affiliate program based on a recurring commission model. For every new customer who signs up for Leadpages through your affiliate link, you earn a 30% recurring commission for life, unless the customer cancels the subscription.
Click here to start earning 30% recurring commissions on Leadpages!
ConvertKit is an email marketing tool used by 19,000+ online creators and bloggers to manage their businesses. Convertkit affiliate program earns you 30% recurring commissions each month from everyone you refer unless they cancel their subscription.  Payments go out at the beginning of every month.
Click here to start earning commissions from the Convertkit affiliate program!
5. BigCommerce Affiliate Program
BigCommerce is an online store software used to create beautiful storefronts on behalf of their customers. They have robust and modern in-built tools and apps that can turn your boring store into  a marketplace that everyone wants to buy from thus increasing sales. The affiliate program has a 90-day cookie. You earn $1.50 per registration and up to $1,500 per sale.
Click here to start earning with the BigCommerce affiliate program!
6.  Liquid  Web Affiliate Program
Liquid Web is a managed web hosting company providing the best hosting solutions to medium-sized and large online businesses. They have a 90-day cookie period and you can earn up to $1,500 per sale. There are two ways to access the program. You can use CJ by Conversant or get access through the Impact Radius platform. I love the Impact Radius platform. It's easy to use and has lots of offers too.
Click here to join Liquid Web affiliate program!
They claim to be the best in WordPress Hosting and I believe them. They will pay you $200 per referral or 100% of the first month's payment. This is massive, in my opinion. They have a 180-day return cookie.
And, did I mention that if you refer 60 people you get $1,500 extra? They sure know how to take care of their affiliates! To get signed up as an affiliate, you first have to get a Share-A-Sale account. I cover the best affiliate networks below so you don't get stuck.
Click here to sign up as an WP Engine affiliate
Siteground seems like the new kid on the block and everyone is talking about them. They use the same process that Hostgator uses. They pay per signups. 1 to 5 qualifying signups earn you $50 per signup and 21+ sign ups earn you $125 each. One thing I love about their program is they pay weekly and no minimum monthly sales. You get paid what is owed, however small.
9. BeRush Affiliate Program
SEMRush is an online marketing platform offering competitive research services to all digital marketing professionals all over the world. They created the BeRush affiliate program which can earn you 40% recurring commissions on every new user you bring their way. Payments are sent out twice a month through PayPal or Wire Transfer.
10.

Elegant Themes Affiliate Program



Elegant Themes is a company know for creating modern premium WordPress themes.  Their affiliate program has over 30,000 affiliates and they pay out $3,000,000 every year. They have a 50% commission rate plus recurring payments. Meaning, you get paid for the initial payment, which is 50%, then every time a customer renews a service you still get commissions for that too. They have a180-day return cookie.
11. StudioPress Affiliate Program
StudioPress offers high quality themes and plugins to their customers just like Elegant Themes does. You get 35% commissions for theme sales and tiered flat-rate commissions for StudioPress sites ranging from $75 or $150 per site. They have a 60-day cookie and you get access through the Share-A-Sale platform.
Best Affiliate Programs for Bloggers
This website is hosted via Hostgator and I love it! I highly encourage you to promote Hostgator and make some money while at it. They do things a little differently, though. They pay per signups. 1 to 5 qualifying sign ups earn you $25 per signup and 21+ signups earn you $125 each. They have a 60-day cookie. They pay per month and each month you receive your payment via check or PayPal.
Click here and start earning with Hostgator!
---
Want to start a blog but don't know how to go about it? Click here to start a blog on WordPress and be one of my lucky readers who gets a discounted price of $0.01 the first month. You will pay 1 Cent to get web hosting at HostGator.That's $10.94 off!
---
Namecheap is an accredited domain registrar, SSL certificate seller and web hosting service provider that has been in business since 2000. You get15% commission every time a new customer makes a purchase through your affiliate link. Payment is made 30 days after a purchase has been done.
Click here and start earning with Namecheap!
Teachable is an online teaching platform perfect for course creators and bloggers. Join the Teachable affiliate program and start earning monthly recurring income. They pay 30% recurring commissions for one full year.  Funds are deposited straight to your PayPal account every month.
GoDaday is also a domain registrars. You can join their affiliate program through CJ Affiliate by Conversant or Zanox Affiliate Network. Sale commission is 40% of all product sales made through your affiliate link.
This is an award-winning web hosting company that has been in business since 1997. That's a long, long time to build a business!
As a Dreamhost affiliate, you will make $120 for each referral and you don't even have to be a customer to promote their services. They have a 60-day cookie. So, why not spread the word and start earning some extra cash!
Partner with Aweber as an affiliate and make 30% recurring commissions.  You get your payments every single month and they have a 365-day cookie.
Refer customers to MailerLite and earn 30% recurring commissions. They have a minimum payout of $120. Once you hit that limit you can request a withdrawal and it will be sent straight to your PayPal account.
Sign up with Social Warfare affiliate program and make 30% commission on every sale you refer.
Tailwind affiliate program is handled through Share-A-Sale. You get 15% recurring commissions on all sales made through your affiliate link. They have a 90-day return cookie.
Click here to sign up with Tailwind and get your 1st month FREE! 
21. GetResponse
As a GetResponse affiliate, you will earn 33% recurring commissions on every paid account referred by you. They have a 120-day return cookie.
Make 20% recurring commissions when you refer customers to SendOwl.
As a Samcart affiliate, you get 30% recurring monthly commissions and payments are done every 30 days
Grammarly affiliate program is run by Share-A-Sale and CJ Affiliate by Conversant. You make $0.20 when a new customer signups and $20 when they purchase a premium plan. They have a 90-day return cookie and offer bonuses to top performers.
Earn $55 for each converting customer you bring to 99Designs. They have more than 5,500 affiliates and they have paid out $250,000.
Click here to start earning with 99Designs!
PicMonkey affiliate program is run through Share-A-Sale. They pay 50% sale commissions and have a 30-day return cookie.
ONLINE E-COURSES & EBOOKS WITH AFFILIATE PROGRAMS

This course is amazing. It will teach you everything you need to know about affiliate marketing. For you to qualify as an affiliate, you must be enrolled as a student first. Sale commission is 40%.
Click here to start earning with Making Sense of Affiliate Marketing!
They have an affiliate program but it is by invite-only. You can find out more here.
Join TranscribeAnywhere affiliate program and make 20% commissions for every sale you send to them. This is a high ticket product and the payouts are good.
GINA HORKEY'S PRODUCTS
Gina has different products that you can promote. You get 40% sale commission on any of those products. Payouts are done on 15th and 31st of every month via PayPal Mass Pay. She has a 365-day return cookie. See the list below
29. 30 Days or Less to Virtual Assistance Success
30. 30 Days or Less to Freelance Writing Sucess
This is a library of amazing products and services. You earn 40% commission when your readers buy any bundle. Affiliates apply by filling out a form  – then get approved manually.
SUZI'S PRODUCTS
Suzi offers 50% sale commission on Blog By Number, 40% sales commission on Income Journey and 30% commission on Make Money with Amazon Associates e-book.
32. Blog By Number
33. Make Money with Amazon Associates
THE SELLING FAMILY PRODUCTS
You get 50% commission on all products and payments are sent out every 1st of every month for the previous month's sales.
35. The Bloggers Guide to Rocking the Amazon Affiliate Program
36. The 30-Day Website Building Challenge
Others
37. Building a Framework:  The Ultimate Blogging Handbook
For you to become an affiliate with ThemeForest, you have to get an Envanto account. They claim to pay out $3,000,000 per year. When you refer a customer and they buy or add credit to any of the Envanto sites, you get a 30% commission.
42. Creative Market
I love Creative Market for two reasons. One is that they have a lot to offer. And, two, when you refer a customer you make 10% commission on every purchase they make for the entire year, that's 365-day return cookie!
You make 55% commission per sale and 2-tier lifetime 10% commissions when you refer customers to buy products here. They have a 60-day return cookie offering monthly payouts with no payout limit
Bluchic has beautiful themes suitable for female entrepreneurs. You get a 25% sale commission when you promote their products. Payments go out automatically every 15th of every month for sales made in the previous month. This is done through PayPal and you must have a verified PayPal account
45. DIY Themes
This service is run through Share-A-Sale. They pay 33% sale commission on all Thesis license themes and they have a 60-day return cookie.
46. Pretty Darn Cute
When you refer customers to Pretty Darn Cute you get 25% sale commission and 5% 2-tier program. It has a 30-day cookie.
47. Gravity Forms
Earn 20% sale commission when you refer customers to Gravity forms.
MemberPress rewards its affiliates in three different ways. An active member with a Developer License gets 30% recurring commission. Those who are active with a Business License earn 20% recurring commission and those who are not active get 10% recurring commissions. They have a 60-day return cookie and payments are done at the first of each month via PayPal
BEST AFFILIATE NETWORKS

Rakuten has been voted #1 Affiliate Marketing Network for 7 consecutive years and they fulfilled 100 million orders worldwide in the year 2016. Sale commissions depend on product category, but they range from 10% to 15% of the total amount plus $0.99 per item sold.
Click here to start earning with Rakuten!
This is one of the largest affiliate marketing networks out there with over 3,900 verified merchants. It has been in business for over 17 years and has high-profiled merchants with a great reputation. Sale commission depends on the merchant but they range from 3% to 20% of the total amount. And lead commission ranges from $0.01 to $200.
A merchant like WP Engine pays as much as $200 per sale. Payments are sent out on 20th of every month via Check or Direct Deposit
This is also another great affiliate marketing network that will pay you commission (referral fees) when a customer buys products through your affiliate link. Sale commissions are given depending on the product categories. Some pay 4% and others pay 10 or 12% per sale. Payments are done via check, direct deposit, gift certificates or Payoneer if you are a non-US citizen. With check, they charge $15 processing fee and the amount should be above $100.
Click here to get started as an Amazon Associate
52. CJ Affiliate by Conversant
Formerly Commission Junction, this is a great affiliate marketplace that you can use to monetize your content and make money. It connects advertisers (brands and companies looking to sell their products and services) and publishers (blog owners like you and I looking to promote those products to our audience then get commissions when someone purchases through our affiliate links. Signing up takes just a few minutes. Once your application is received, you get access to the CJ account manager where you start applying to affiliate programs that you like. They pay on 20th of every month and the minimum payout is $25.
Click here to sign up as a CJ affiliate
Clickbank is a global internet retailer that was founded in 1998 with over 200 million customers worldwide. It got the Top 100 e-Retailers in the US and Canada Award in 2015. It focuses mainly on digital information products.
Sale commissions are set by the vendors but they range from 1% to 75%. The default payout threshold is $100 but you can set your own if you prefer. Once this threshold is reached, a payment will be sent to you.
This is an instant commission platform that operates just like ClickBank. You make commissions when you promote other people's products. Here, you get the opportunity to make money both as a seller and as an affiliate.
As an affiliate, you get access to the JVZoo affiliate library and you can even make 100% sale commissions on the products you promote. If a product has a sales funnel, you get paid for the initial product plus all other products tied to that single product. Payments are done directly to your PayPal account from the vendor's account.
Note:  One con I find with JVZoo is payments are delayed especially if you are a beginner.
How this works is you find eBay listings (this can be anything from fashion, electronics, collectibles, jewelry) and promote it to your customers or even friends. When someone makes a purchase, you get a percentage of that revenue. As an eBay partner, you can earn between 50% to 70% of the total amount. They have a threshold of $10 and you get paid once a month.
Click here to sign up as an eBay Partner
56. Awin (formerly affiliate window)
This is an affiliate marketing company that generated $82 million in sales last year. It has over 6000 advertisers and 100,000 active affiliates. They help publishers like you and I to create profitable partnerships with the best brands in the world. Earn money online by promoting products and services from these brands to your target audience.
Click here to become an Awin affiliate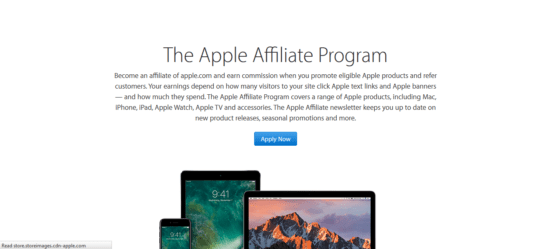 Earn commissions when your customers buy Apple products like iPhones, iPads, Apple TV and accessories. The amount you make will depend on how much your customers spend. The more they spend, the more money you will make.
Also, you can take advantage of new releases and seasonal promotions to make more money. Apple is a big brand that's recognized worldwide and many people like buying their products. It won't be hard to get sales.
iTunes Affiliate Program is another one that you can check out. Your application will be reviewed after 5 business days then access granted.
This is an affiliate marketing company that connects advertisers and publishers just like other companies I've mentioned above.
Brands like Hostgator and 99Designs realize that it's not easy to track sales and affiliate commissions on their own, and so they look for third parties to help them out. That's where Impact Radius comes in. Impact Radius has a multi-layered tracking system that brings in 17% more earnings than basic cookie systems do.
Others to check out are:
And there you have it folks! This comprehensive list contains top paying affiliate programs and the best affiliate programs for bloggers to make money.
Know other best affiliate programs that are not listed here? Feel free to share them in the comments below!
Liked this post? Pin it!