If you are searching for the best business ideas for women that can make you good money this year, then you are at the right place.
When I started my online journey, I did a couple of businesses and online ventures before I landed the perfect home-based business idea that was perfect for me, as a woman.
I did transcription, virtual assistance, freelance writing, then eventually settled on blogging.
Choosing blogging was the best decision I ever made. I'll tell you why in a minute, so keep on reading.
As a woman, you may be feeling overwhelmed right now like I was, not knowing which business model to start from home. Let me make this easy for you.
I have researched and compiled a list of amazing home-based business ideas that women can do to make money this year.
Most of them are online business ideas that you can start at your own pace and work whenever and however much you want. Stay-at-home moms and housewives will really love this!
Let's check them out!
Disclaimer: This post contains affiliate links, which means I may receive a small commission, at no extra cost to you, when you make a purchase. Please, read our affiliate disclaimer or privacy policy for more information.
17 Small Business Ideas for Women At Home
Let's look at the best small business ideas for women to work from home in no particular order!
1. Proofreading Documents
Are you a lady who love to read but hate seeing typos and grammatical errors in documents? Well, I have the perfect small business ideas for you!
It is proofreading…
Proofreading is the art of going through written documents and catching spelling mistakes and grammatical errors.
You don't need a DEGREE to work as an online proofreader but you will need some form of training. I got that part covered too.
I recently interviewed Caitlin Pyle, a six-figure online proofreader who earns a full-time income working from home part-time.
You can learn more from the interview on how to become a proofreader.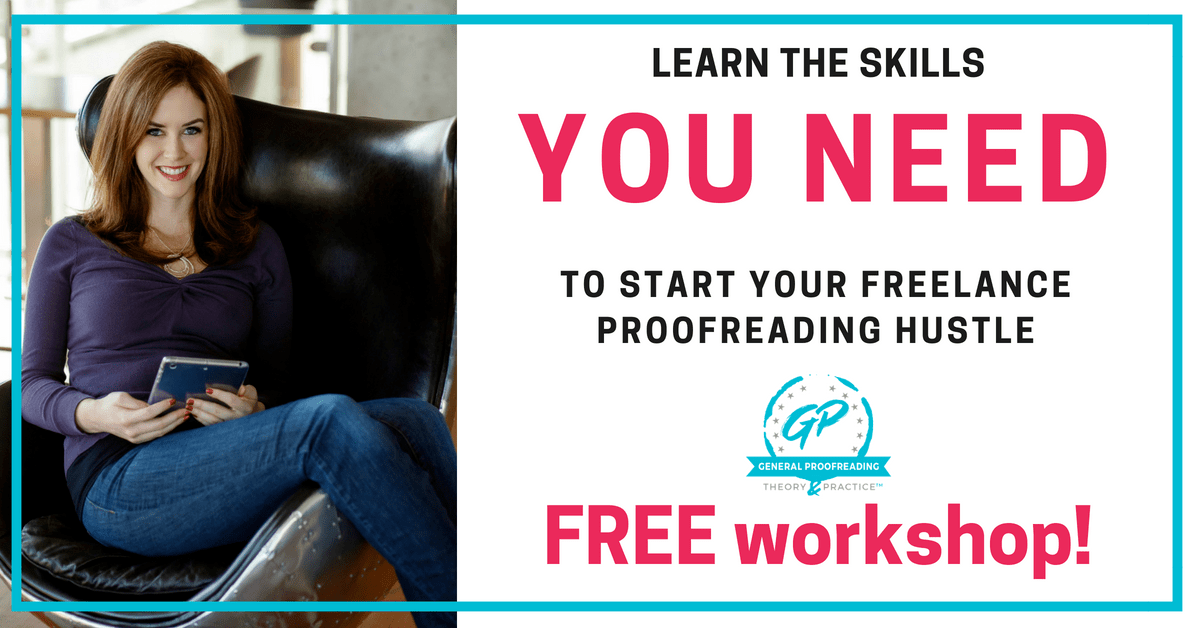 Caitlin also has a FREE 45-minute proofreading workshop. It will help you to start your very own online proofreading business with ease. Feel free to check that out if proofreading is the business idea you want to pursue.
Related: Test Your Skills with This Free Online Proofreading Quiz
2. Blogging
I love blogging, and I know that many women do too. That's why I'm putting blogging as the second best home business idea for women to make money while at home.
A few months ago, I didn't know much about blogging and had no idea that you could actually turn it into a real business.
But, when I met businesswomen like Michelle Schroeder-Gardner of Making Sense of Cents and Sara Titus of Sarahtitus.com, my perspective about blogging totally changed.
Michelle was earning $100k+ per month and Sara Titus was at $200k+ as per her income report that month. No wonder this online business idea caught my attention.
Fast forward to 8 months, I'm earning a full-time income through blogging and I couldn't be happier.
All this was possible because of Making Sense of Affiliate Marketing course.
This awesome course showed me how to make money blogging through advertisements and affiliate programs.
If you want to make serious money with your blog, you should definitely check out the course!
For advertisements, I got signed up with Mediavine, an ad company that pays me X dollars per 1000 sessions.
I earn about $100 per day from Mediavine. See screenshot below
Then we have affiliate marketing. Here, I recommend products and services to my readers and when they buy through my affiliate links, I earn a commission. You will definitely love these affiliate marketing strategies.
Feel free to check out this post on how I made $4,789 blogging. Of course, the numbers have increased since January, but I want to give you an idea of what's possible when you choose blogging, as a business idea.
Blogging is an awesome business idea for ladies with low investment. You just need a domain name and hosting which costs less than $50 to get started, and the rewards are many.
For starters, you will earn a lot of passive income and you won't be constantly exchanging your time for money.
If you are new to blogging, I'd recommend you check out this post on how to start a blog and make money even as a beginner then take the Making Sense of Affiliate Marketing course, to fully jump-start your blogging journey.
3. Bookkeeping Business
Bookkeeping involves recording and tracking of business transactions for business owners. Basically, it's the handling of monthly income and expenses of a business.
As a bookkeeper, you can earn up to $80 per hour without experience. Actually, bookkeeping is a hot new small business idea that women can take up to make money online.
Ben Robinson of Bookkeepers.com is an expert when it comes to bookkeeping. He has trained over 2000 bookkeepers, and most of them are earning $80+ per hour.
I interviewed Ben on how to become a bookkeeper from home. He was kind enough to share his bookkeeping skills and experiences. Feel free to check that out.
I know Ben is a man, but he helps women to set up online businesses centered around bookkeeping.
He has created a free introductory bookkeeping training to help aspiring bookkeepers decide if this is the career path for them.
Like what you see? Get the full bookkeeping course that will allow you to offer your bookkeeping services with confidence!
4. Tutoring Online
If you have some time on your hands and love playing with kids, you can take up tutoring jobs online.
Tutoring is a flexible stay-at-home career, or business idea for moms and housewives as it allows them to work from home own their own schedule and spend more time with family and friends.
A company like VIPKid will require you to have a degree and previous tutoring experience, but some companies don't mind. Magic Ears is a great example of companies that don't need a degree or experience.
You'll need a faster internet connection, a pair of headsets and Skype installed on your computer. Each company has its own pay rate but expect to earn $24 per hour or more.
Click here to learn more about VIPKid or head over to the Magic Ears website and see if you can land an online tutoring job today!
5. Pet Care Business
If you are a housewife or a lady sitting at home during the day, and love pets, you can start a pet care business and earn up to $1000 per month. Worried that you may not get clients? No problem. Rover is here to help.
Rover is an awesome platform that connects pet parents with pet sitters and dog walkers.
I love Rover because it gives you the opportunity to set your own hours and you get to decide how much you want to earn per sitting. This is a perfect home business for moms who don't have much time on their hands.
When you sign up with Rover for the first time, you will receive a $25 bonus.
Click here to sign up and start earning with Rover today!
6. Transcription Business Online
If you have great English skills and can type at least 50 per minute, you can start a transcription business and make extra money on the side.
Starting a transcription business is not that difficult. You just need a working computer, transcription software and a foot pedal to make work easier. You can find transcription software like Express Scribe and foot pedals from Amazon.
Ajay Prasad of GRM Transcription (though not a woman) built his transcription business from scratch and was able to grow it to $1.2 million per year.
You can read the full article on how to build a $1.2 million transcription business from scratch here.
Best places to find transcription clients for beginners are Fiverr.com, Upwork, and Rev.com.
Additionally, Janet Shaugnessy is a professional transcriptionist/ course creator and she has a free course that can show you how to make money from home as a freelance transcriptionist!
7. Virtual Assistant
If you are good at multi-tasking and can handle a variety of tasks, virtual assisting is a great stay-at-home moms business to consider.
If hired as a virtual assistant, your work may involve but not limited to setting appointments, writing blog posts, handling social media accounts or completing data entry online jobs.
Virtual assistant services are in high demand nowadays and you can earn up to $50 per hour or more.
If you are still searching for side business ideas for ladies that they can do from home, then you should consider the option of becoming a VA.
On that note, I had a detailed interview with an amazing lady, Gina Horkey, a successful virtual assistant, who shed some more light on this field. See the full interview on how to become a virtual assistant and make $40 per hour.
She also created a course: 30 Days or Less to Virtual Assistant Success to help you run a successful home-based business.
Once you finish going through the course, you can check out this list of virtual assistant jobs for beginners.
If you are still searching for online home based business ideas for women, I would encourage you to give VA work a chance.
8. Pinterest Virtual Assistant
If you are good at administrative tasks like we mentioned above and still have some time on your hands, you can also start a Pinterest Virtual Assistant business.
As a Pinterest VA, your work is mainly focused on managing Pinterest accounts on behalf of your clients. Your daily tasks will involve creating pins, creating personal boards, joining group boards, getting more followers, scheduling pins using Tailwind and sharing pins in Tailwind tribes.
Your role is to help clients grow their businesses using the Pinterest platform and you can earn $40 to $100 per hour.
Gina Horkey and Kristen Larsen of Believe in a Budget created Pinterest VA course that helps beginners to create and run successful Pinterest VA businesses.
You can click here to enroll in the course and learn more about this awesome business idea.
Related: 16 Hobbies that Make Money Online
9. Freelance Writing Business
Freelance writing is another profitable business idea for women at home to make money.
It's more lucrative than other online business ideas and for good reasons.
Gina Horkey, a six-figure freelance writer started her freelancing career in 2014 and was able to earn $4,000 per month while working part-time.
After seeing how profitable it was, Gina quit her full-time job and dedicated all her time to it.
She earns six figures now and created her course: 30 Days or Less to Freelance Writing Success to help you run a successful writing business with ease.
I also had an interview with Gina and she shared her writing tips with us. See the interview on how to make money from home as a freelance writer.
10. Dropshipping Business/ Open An Online Store
Dropshipping is also a good business idea for women to consider.
You cam set up an online store using Shopify or BigCommerce then list all the products that you want to sell.
When a customer makes an order, you send the order to your supplier then the supplier ships the product directly to the customer and you get paid.
Dropshipping is a profitable business that can be done on autopilot from the comfort of your home. Just make sure you get reliable suppliers ready to deliver products that customers want and are willing to buy.
A great woman who has leveraged this business model is Sarah Titus. Sarah doesn't do drop shipping but her online store earns her $200k+ every single month.
She used Shopify to set up her store and it's become a flourishing business.
Click here to start a Shopify store and start earning money online today!
11. Amazon FBA
Amazon is a multi-billion dollar company that helps more than 10,000 Amazon FBA sellers to sell their products online.
In 2016, Amazon helped these sellers to generate $1 billion in annual sales. It's also worth noting that third-party sales on Amazon account for 31% of Amazon annual sales.
As an Amazon seller, your work involves sending products in bulk to Amazon then they ship them to customers on your behalf. Amazon handles shipping and inventory, as well.
Jessica Larrew of the Selling Family earns six figures doing this. She has a FREE 3-part video series that teaches beginners how to run successful Amazon FBA businesses from home.
You can also check out their Amazon FBA: Step by Step Guide on How to Make Money by Selling on Amazon if you want to learn more than the basics.
12. Airbnb Host
If you have some rental houses in your home, you can list them on Airbnb and earn up to $700 per week.
It's not difficult to become an Airbnb host. All that's required is for you to list your house(s) by uploading the property details. You will be required to indicate pictures of the house, where they are located, the cost of each room and how many people each unit can accommodate.
Once you fill out this data, the guests will do a search on the website and if they like your rooms, they will make a reservation and indicate how long they intend to stay.
They will make the payment then come to stay as indicated. Airbnb is also among the best business ideas for women to make money because it's something that you do part-time and has long-term potential.
Click here to join Airbnb and find out how much you can earn from your location!
13. Scoping
Scoping is a great online business idea for moms and women that you can take up to to make extra money from home.
As a Scopist, you make money by editing documents for court reporters, and you do this from the comfort of your home.
Linda Evenson is a successful Scopist who earns a full-time income from home.
She created the Internet Scoping School to teach beginners how to earn money, up to $4,500 per month just by editing documents.
You can join her FREE 7-day scoping mini-course and find out if scoping is the right career path for you.
I also had an interview with her and she was kind enough to share her scoping experiences. See the post on how to become a Scopist.
14. Flea Market Flipping
Flea Market Flipping is the process of buying items at a lower price then sell them at a higher price to make a profit.
Melissa Tonini and her husband Robert of Flea Market Flipper are successful flippers earning six figures every single year.
They made $133,000 in 2016 working 20 hours a week. I had a special interview with Rob and he shared how one can create and run a flea market flipping business successfully.
They also have a great course at Flea Market Flipper University that teaches beginners how to earn up to $2,500 per month in the first year of flipping items.
Find out more here on flipping thrift store items.
Click here to enroll for the course and start earning by flipping items for profit.
15. Photography
The rise of technology has made it possible to make money online with just about anything these days, and photography is no exception.
If you are great at taking quality pictures that people will love, you can turn this into a business and sell your photos on stock photography sites like iStockPhoto and Shutterstock.
In a previous post, I wrote fabulous places to find free, feminine-styled stock photos. Well, you will be happy to know that most of these free stock photo sites have a membership section where they sell premium photos.
And members are paying up to $50 per person per month. To do the math real quick, get 100 or 200 committed members and you will be earning $5,000 or even $10,000 per month on autopilot.
If you want to upgrade your photography skills, you can do so by checking out Digital Photography. It has lots of great resources to help turn your love for pictures into a real business.
Join Digital Photography School if photography is something you really want to pursue.
16. Start An Etsy Shop
Are you creative and have a talent for crafting handmade goods? if you are, then you can make some money this year.
Here, you create printables, bracelets, furniture and list them for free on Etsy. Just let your imagination work for you.
In 2014, Sarah over at Unsettle.com turned $0.30 into $5,000 in 4 months on Etsy.
You can check out her guide on The Ultimate Guide to Selling on Etsy: How I Turned $0.30 into $5,000 in 4 Months.
Related: How to Make Passive Income with Printables
17. Graphic Design Home Business
Graphic design skills are more in demand now than they were 10 years ago. Both online and offline business owners want logos, illustrations or web designs that are appealing to their target audience.
If you have these skills put them to good use by designing websites, creating logos or Kindle e-book covers for authors and other online entrepreneurs.
Platforms like 99Designs or Fiverr.com have thousands of graphic designers in the graphic design category alone. That number is proof enough that this skill is in high demand. Expect to earn $10 to $30 as a beginner.
The Best Home Businesses for Moms in 2021 Let You Stay Home
I hope you liked this list of home business ideas for women. I always strive to get you the best content about working from home and making money online.
A stay at home mom business might be the right decision for you. What one will you choose?
Related: The Best Make Money Online Course List
Have you had success with the online business ideas I've mentioned above? Know someone who has? I'd love to hear from you. Leave a comment below!