This post contains affiliate links, which means I may receive a small commission, at no extra cost to you, when you make a purchase. Please, read my affiliate disclaimer for more details.
When I started this blog, the idea was to focus on general transcription alone, but then my readers started asking me about other ways they could use to make extra money online.
I realized that I was doing a disservice to them, and so I decided to broaden my niche a bit and write about the different ways to make extra money from home.
If you are a frequent visitor of my blog, you will notice that I've talked a lot about work from home jobs and make money online opportunities, because that's my mission now.
So today, I want to focus on how to make extra money on the side. Earning extra money on the side is a great way to supplement your income.
You can use that money to buy groceries, pay cable or put some in your savings account. And the best part is that this is money you earn anywhere in the world. No restrictions. So, let's get started!
Best Ways to Make Extra Money on the Side
#1.  Take Paid Online Surveys for Extra Cash
Taking paid online surveys is a great way to earn extra cash on the side.
Paid research companies like Survey Junkie or Swagbucks will put money in your pocket in exchange for solid feedback about certain products or services.
You don't have to pay a single cent to join these survey companies. They are 100% free.
Here are my top 3 survey recommendations:
a) Survey Junkie
You can join Survey Junkie and be among the 5 million members who receive rewards for completing surveys.
Survey Junkie is 100% legit and pays points that you can redeem for gift cards or PayPal cash. If you are good at taking surveys, you can earn up to $18 per hour.

Click here to earn extra cash with Survey Junkie!
B) Vindale Research
Vindale Research is among the best-paid survey sites on the internet today.  It's a reputable survey site that pays the highest in the industry. Their surveys can earn you up to $100 per survey. And that's not all. They pay cash, not points.
Plus, you get to see how long it takes to complete a survey and how much you make from each. I love their system as you select which surveys to take and which ones to leave to avoid wasting time.
Join Vindale here and start earning $50 per survey!
C) Swagbucks
Swagbucks is a reputable survey company with 15+ million members. It has been in operation for over a decade and has paid over $380 million. Besides taking surveys for money, you can also watch videos, shop online, search the web or complete promotional offers for extra pay.
Swagbucks also has a FREE $5 sign up bonus.
 Click here to claim your FREE $5  signup bonus from Swagbucks!

Further Reading: 16 highest paying online surveys for everyone.
#2. This Nielsen App Wants to Give You $50 Extra



If you love using the internet as I do, you will be happy to know that Nielsen Computer and Mobile Panel will send you $50 per year just to download and install their app on your phone.
Yep!
This is money you earn for doing close to nothing.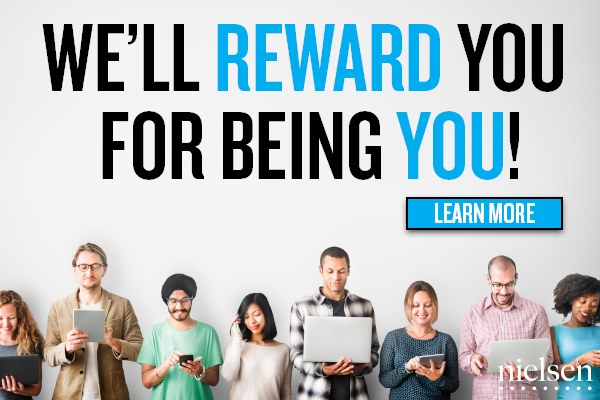 All you have to do is just register all your devices. It can be a computer, a tablet or a Smartphone.
Download the Nielsen app and have it installed on all these devices and bam! You earn $50 just like that!
#3. Make Extra Money by Proofreading Documents
If you have a sharp eye that can catch errors quickly, you can make use of that talent and earn extra income as a freelance proofreader.
Basically, a freelance proofreader is someone who goes through a transcript and makes sure it's free of spelling or grammatical errors on behalf of court reporters.
Caitlin is a successful freelance proofreader who earns $50,000+ per year just by proofreading documents from home while enjoying her fun vacations.
She has a FREE 45-minute workshop that can teach you how to make money proofreading documents. You can download the FREE workshop and find out more!
 Click here to get instant access to her FREE workshop!
Need a proofreading job? Get this list of online proofreading jobs that hire even beginners!
#4. Earn Extra Money with Rakuten
Rakuten is a cashback website that pays in many ways.
For starters, Rakuten will send you FREE money when you sign up as a member.
You will receive a $10 sign up bonus that you can transfer to your PayPal account or redeem for Walmart gift cards.
The second way to earn with Rakuten  is by referring your friends. Rakuten has a referral program that earns you money when people sign up through your affiliate link.
The third way to make money with Rakuten is to use the cash back option. I normally say that the best way to make money is to save money.
Rakuten has daily deals, discounts and promo codes that you can take advantage of to save huge money from your online shopping.
Download and install the Rakuten browser extension so you can easily be notified of new deals and discounts.
#5. Earn Extra Money Offering Freelance Services
Fiverr is an online marketplace that you can use to sell your freelance services and make extra money.
The site has a wide range of services you can offer your clients. Services range from long-term projects like building websites to completing simple tasks like singing a 2-minute birthday song or impersonating a celebrity.
And guess what? You earn a whole $5 for the two minutes you spend singing. Get 5 singing gigs and you already have $25 in your pocket. Multiply that by 2 and you get $50.
This is why Fiverr has become a big brand in the gig economy that everyone is talking about.
It gives you the flexibility to offer whatever services you want, whenever you want and charge however much you want.
Click here to start earning extra money with Fiverr!
#6.  Make Extra Money Online As an Airbnb Host



It's so easy to earn extra money these days and having an extra room in your house will make it even easier. You can rent out your room or house to guests using a free website like Airbnb.
Airbnb is a free website that allows you to screen guests and have them over at your house for extra money. See this as a profitable side hustle you can do at any time, especially when you're about to travel. Instead of leaving the house all by itself. You can have guests over and have them pay for their stay.
Click here to check out Airbnb and start earning extra money today!
#7.  Watching Videos and Earn
Love watching YouTube videos?
Great!
Many people are earning extra money by watching short videos on Swagbucks and InboxDollars.
Just watch videos from the comfort of your home and you will have money in your pocket.
Videos consist of cute animals or cooking shows that you will love. Nothing boring or spammy.
And, did I mention that you can make $10 when you sign up with these two companies?
Yes! Swagbucks and InboxDollars will pay you $5 each when you register.
Click here to join Swagbucks and start earning extra money doing something you enjoy!
#8.  Deliver Food and Get Extra Cash



Got a few hours in your day?
Nice!
You can spend that time wisely by delivering food to customers on behalf of local restaurants and get paid for it.
Companies like DoorDash and UberEats have made it so easy for people to eat restaurant meals away from restaurants.
A company like DoorDash will pay you up to $700 per week just to do food deliveries. This is good money for a few hours of work.
Become a DoorDash driver and start earning today!
Need more driving jobs? Here is a list of the best delivery driver jobs hiring now!
#9. Teaching English Online & Earn



If you are passionate about teaching, you can teach Chinese kids and earn up to $26 per hour.
Tutoring companies like VIPKid are always looking for teachers to add to their team.
Teaching is a flexible work from home job that you can do in the evenings or even on weekends. You will need a fast internet connection, a computer in good working condition with Skype installed and a pair of headsets.
Join VIPKid and start earning extra money today!
#10. Make Extra by Renting Your Car
Turo and Getaround are peer-to-peer car sharing marketplaces that allow you (the car owner) to rent your car and earn extra income.  It takes less than 10 minutes to list the car and they pay via direct deposit within 5 days.
Renting your car is one of the best ways to make extra money on the side as it does not require much effort on your part.
Click here to start earning with Getaround!
#11. Get Refunds on Stuff You Already Bought
Did you buy stuff online and the prices suddenly dropped? Well, those stores owe you money!
It could be $20, $50 or even $100!
We have a free cool app called Paribus that makes sure you get your refunds back.
So, how does this work?
Sign up for a free Paribus account and allow it to scan your emails for any online purchase receipts. These receipts may be from hundreds of online retailers, and that's no problem. Paribus has got your back.
You don't even need to know that there is a price drop. You'll just receive the refunds once the whole process is over. How cool is that?
Click here to sign up for a free Paribus account and start getting refunds on all your online purchases.
#12. Drive People Around & Get Extra Income
You've run out of ideas to make extra money but got a car?
Join Uber or Lyft to drive people around and make extra money doing what you love on your own schedule. The approval process takes 48 hours max and you stand a chance of earning a $300 bonus after your first 100 rides at Lyft.
This isn't so difficult to do reach if you have a lot of time on your hands.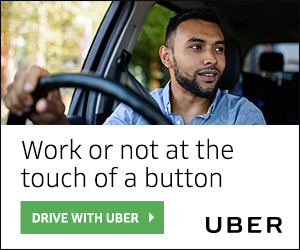 Click here to join Uber and start earning extra income today!
#13. Become a Freelance Writer
As a freelance writer, your work involves writing content for different clients on  Fiverr or Upwork. You can also try your luck at content mills like iWriter or HireWriters.
You can find out more about freelance writing jobs for beginners here
Gina Horkey is a professional writer with a detailed course:  30 Days or Less to Freelance Writing Success that teaches beginners how to position themselves as professional writers.
In addition to that course, you can also check out Grammarly. An awesome writing tool that checks spelling mistakes and all grammatical errors so that you can present flawless work to your clients.
#14. Earn as a Transcriptionist
I've talked a lot about transcription jobs on this website. We have a couple of companies that hire beginners (entry-level transcriptionists.) but others may require prior transcription experience.
If you are looking for free transcription training, Janet Shaughnessy has a  FREE transcription e-course that can teach you everything you need to know about transcription.
#15. Earn as a Virtual Assistant
If you have a few hours in your day to spare, you can offer virtual assistant services and earn extra money from home and you don't even need experience.
Your day to day tasks will involved setting appointments, content creation, managing social media accounts, responding to emails and doing keyword research.
Want to become a virtual assistant?
Grab this amazing virtual assistant course from Gina Horkey.
#16. Start a Money Making Blog
Starting a blog is a great way to make extra money online.
The initial investment is required to get started but you will get that money back in a few short months.
If you are ready to get started, head over to Bluehost and get set up for as little as $3.95/month!
There are many ways to make money with a blog.
You can do affiliate marketing, selling your own digital products or place ads on your blog for extra cash.
I started my blog last year, and while I was doing it part-time, I was able to grow it to $1,500 per month all on autopilot.
I have posts on this blog that make me $100 per day on autopilot. Some days are better than others. But, when I do my calculations, they add up to $1,500 every single month.
These are my money-making posts
Affiliate networks bringing me the most money
---
Here's an exclusive offer for all Earn Smart Online Class readers. Start your blog for just $3.95 with Bluehost. You get a FREE domain, FREE SSL Certificate, and 24/7 customer support when you use my exclusive affiliate link. You can't find this offer anywhere else. So, hurry and get started today!
---
#17. Start an Online Store
Many online store owners are earning six figures from this work from home opportunity. Sarah Titus is one person who is using this business model and has achieved great success doing it.
She released her March income report having earned over $200k in that month.
And guess what?
A huge portion of that money came from her online Shopify Store.
Click here to set up your online store and start earning today!
#18. Sell Your Photos Online
If you love taking beautiful pictures, you can sell them online and make some extra cash. We have amazing stock photo sites like iStock that can sell photos on your behalf and send you checks every single month.
Best stock photo sites to get you started!

#19. Test Websites From Home
Testing websites from home is another great way to earn fast cash. As a website tester, your work involves giving apps or websites a test-drive before they are released into the market.
Most companies pay $8 to $10 per test but a company like Test.IO can send you $50 per test. Take two tests from Test.IO and you get your $100 fast!
#20. Save Money with Trim
Want to recover cash from old subscriptions you no longer use? Let Trim do the heavy-lifting for you.
Trim is a free money-saving app that will track all your subscriptions and cancel the ones you no longer need so that you can have more money in your pocket.
See Trim as a personal financial manager working 24/7 to save and make you money.  Money Pantry has a detailed Trim review and shares how this app can lower your bills and cancel old subscriptions.
Click here to start saving with Trim!
#21. Sell Old Books
Do you have old books lying around in your garage that you no longer use? Why not put them up for sale on BookScouter? Doing this will free up your space and bring in extra income.
Another site worth checking out is Sellbackbooks but my favorite is BookScouter.
#22. Join Amazon and Become an Associate
Did you know that you can make money by helping Amazon to sell their products?
Yes, you can earn commissions every time a customer buys Amazon products through your affiliate links.
Amazon has a wide range of products for you to promote. It could be toys, jewelry, computers, camping materials, you name it!
How this works is you set up a niche specific blog or website then write tutorials or reviews of products. When your readers buy these products using your affiliate links you earn a commission.
#23. MobileXpression
Download the MobileXpression app and make extra money when you use your devices. This app pays you for doing a number of things.
Get the MobileXpression app installed for just one week and you will receive credits that you can redeem for a $5 Amazon gift card! How cool is that?
Related: Earn Free Gift Cards Fast and Easy
#24. Making Extra Money As a Voice-Over Artist
If you have a great voice and the ability to speak like a celebrity or a famous person then you are in business.  Fiverr.com has so many voice-over artists selling their talent. You can also make money by selling yours.
Click here to start earning as a voice over artist with Fiverr today!
#25. Become an Amazon FBA Seller
Jessica Lerrew, owner of the Selling Family is an Amazon FBA seller and earns six figures a year using this business model. She has a free e-course that can show you pretty quickly if starting an Amazon FBA business is something you want to do.
She also has an advanced course: Amazon FBA: Step by Step Guide on How to Make Money by Selling on Amazon if you want to get more than the basics.
#26. Write An Ebook
Writing an e-book is a great way to bring in residual income month after month. This is a great business model that you do once and earn income over and over again.
We have amazing platforms like SendOwl, Amazon Kindle or CreateSpace that allow you to write your e-books and sell them at a fee. Others charge a monthly fee but others give you royalties for life.
Stephen Pylarinos is a bestselling author who earns six figures selling e-books on Amazon. He created an excellent course that teaches beginners how to make passive income selling e-books on Amazon.
You can learn more about his proven, step-by-step system for making passive income through Kindle Publishing.
#27. Earn Residual Income Selling Online Courses
If you are knowledgeable about a particular topic, subject of interest, you can record videos or create PowerPoint presentation then sell them as a course on Teachable, Thinkific or Udemy.
Teachable, for example, has robust, built-in features that allow you to set a price and enroll as many students as you want and you won't have to worry about your course materials being stolen.  You can collect payments via PayPal or to your bank account.
If you have a course that you want to sell and are not sure where to host it, I would encourage you to give Teachable a try.
Click here to create your course and start earning extra income!
#28. You can Earn through Affiliate Marketing
Affiliate marketing is a great way to earn passive income even if you don't have a website.
If you don't know what affiliate marketing is. This is a way of promoting other people's products and earning commissions when customers buy through your affiliate link.
Some products just have one-time offers. You sell them once and make a commission once. But, others earn you commissions for as long as the customer is using the product.
If you want to learn more about affiliate marketing, check out Michelle's signature course: Making Sense of Affiliate Marketing.
Michelle makes $200,0000 per month and a big chunk of that money comes from affiliate marketing.
Click here to find out more about Making Sense of Affiliate Marketing course.
#29. Get a High Yield Savings Account
If you are looking for a bank account with high yield savings, then go for CIT Bank. Most banks have monthly fees and their interest rates are awful, to say the least.
But, having an account with CIT Bank earns you 1.55% in interest and they don't charge any monthly fees.
Click here to open a CIT Bank account and enjoy the 1.55% return!
#30. Lending Club
Lending money is a good way to earn some cash through the interest rates, although there are some risks involved if you lend money the old fashioned way.
But a company like Lending Club gives you a helping hand ensuring that you get your interest rate after you give out the money.
As an investor, expect an investment return of 6-10% in interest rate.  It is less risky because Lending Club allows you to lend as little as $25 per person.
Click here to join Lending Club and starting earning 6-10% interest!
#31. Credit Sesame
Earning extra money on a continuous basis is a great way to build your net worth. But, this can only be possible if your credit score is in check. So, your credit score matters if you are to truly grow your wealth.
If you are worried about your score, use a free website tool like Credit Sesame to track and monitor it on a continuous basis.
#32. Search Evaluation Jobs
As a search engine evaluator, your work involves finding out how relevant Google search results are when someone types a number of words or phrases in the Google search bar.
You use a set of guidelines to give a rating to web pages (mostly, pages 1 to 10) for their relevancy on a certain query. This is also a great part-time work from home job that can supplement your income.
#33. Earn Extra by Sharing Your Shopping History



Do you love shopping on Amazon and have a few minutes to spare?
Great!
Let Amazon earn you extra cash using ShopTracker!
ShopTracker is a shopping website owned by the Harris Poll, a market research company that measures public opinion on brands in the US.
ShopTracker will ask you to share your Amazon purchase history and in return, they will send you a free $3 Visa gift card plus $3 every single month.

Sign up through this link to receive your $3 Visa gift card.
You don't have to do anything else from now on. Just let ShopTracker find out what you and other Amazon users mostly buy and they'll keep sending you monthly checks.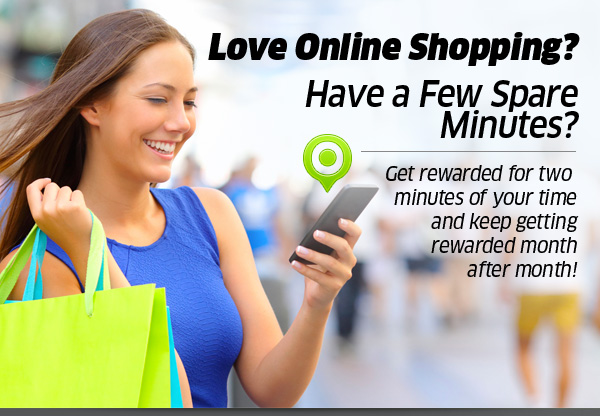 Click here to start receiving extra cash from Shoptracker!
#34. Earn Extra Cash with Slice the Pie
Review music at Slice the Pie and make extra money online, every Tuesday and Friday. Slice the Pie is a music reviewing site that pays twice a week.
One thing to keep in mind is that your reviews must be well thought out and in good English. Generic reviews will be rejected and you won't get paid. So, put in some effort if you want to make money from Slice the Pie.
They have a $10 payout threshold that you must meet before requesting for payment. Once you reach the limit set, you can transfer your funds to your PayPal account.
Click here to start earning with Slice the Pie!
#35. Create a YouTube Channel
If you are knowledgeable about a particular topic and feel confident in front of the camera, you can start a YouTube channel and generate lots of passive income. Your videos can be on any topic so long as there is a market for it.
PewDiePie is a YouTube channel that generates millions every single year and the guy just records himself playing video videos in no particular order.
Update:  YouTube now requires you to have at least 1000 subscribers before thinking of monetization. But, this is still a great passive income stream.
Next Steps…
As you have seen above, it's possible to make extra money on the side and all this can be done legitimately from the comfort of your home.  Whether you want to take surveys, start an online store or create e-books, this is totally up to you. You have lots of ideas to choose from.
If done correctly, these creative ways of earning extra money can even replace your 9-5 job. So, I want you to sit down with a pen and paper and choose at least 5 ideas from this list that you can use to make money, then narrow them down to 2 or 3.  Start small then expand or add on new ideas if your schedule permits. You now know how to make extra money from home.
Do you make extra money from home or have ideas to make extra money that I did not include on this list? I'd love to hear from you. Please, leave a comment in the comments box below.
Like this post? Pin it on Pinterest!