This post contains affiliate links, which means I may receive a small commission, at no extra cost to you, when you make a purchase. Please, read my affiliate disclaimer for more details.
Wondering how to get free gift cards to help you buy your favorite stuff online without spending money?
Great!
You've come to the right place.
With free gift cards, you can buy that Gucci handbag that you've been eyeing for months, or that pair of shoes that's been grabbing your attention at Marcy's or Nordstrom.
Whatever it is, this list will show you how to get it faster. And the best part is that you won't spend a penny. It's 100% free!
Curious How to Get Free Gift Cards?
I mentioned using free gift cards to get stuff you've not budgeted for but now it's time to show you exactly how to do it.
I've researched and compiled 10 simple but effective ways to earn free gift cards.
10 Places to Earn Free Gift Cards the Fast and Easy Way
You can get free gift cards by taking paid online surveys, using cashback apps, completing trial offers or even searching the web. The tasks to complete are totally up to you.
So, let's get started!
Related: Get a Free Money Sign Up Bonus from These Websites
1. Earn Free Gift Cards from MyPoints
MyPoints is a survey and rewards program similar to Swagbucks. You can earn free gift cards by shopping online, sharing your opinions, searching the web or watching videos.
Mypoints has also added more and exciting activities like printing coupons, buying gift cards, discovering deals, exploring content and much more!
And these are not the only ways to earn. They also have a refer-a-friend program that earns you 10% of your friends' qualifying points.
Click here to sign up for MyPoints and win free gift cards online!
2.  Win Free Gift Cards Instantly using Drop
Drop is an awesome cash back app that can help you win free gift cards instantly. What the app does is it tracks your debit and credit card purchases then send you points that you can redeem for free gift cards.
Getting started is quick and easy.
Just download and install the Drop app on your phone then create a free account using your personal data like full names, email address etc. Don't forget to connect your debit or credit cards to the app.
Drop is safe and secure and will not share your information with unauthorized people. They use encryption software to keep all your personal information safe.
When you finish setting up the account, select 5 of your best stores that you intend to shop at on a regular basis.  Go do your shopping like you normally do.
Whenever there is cashback at the select stores, Drop will send you points redeemable at retail stores like Amazon, JC Penny, Whole Foods and many more!
If you've been searching for how to get free gift cards online without completing offers, then Drop is the place to be!
Click here and win free gift cards instantly using the Drop app!
3. Get Free Gift Cards From
Survey Sites 
Wondering how you can get free gift cards from survey sites?
Well, you must have heard of taking paid online surveys in exchange for amazing rewards. These rewards come in the form of PayPal cash and free gift cards. You fill out questionnaires and in return, the survey companies send you redeemable points for free gift cards.
Let's look at the survey sites that use the free points/free gift cards methods.
Related: 20 Cashback Online Shopping Sites
Survey Junkie
I love Survey Junkie because it has a $2 sign up bonus just for creating your account. Apart from the free bonus, they have easy and fun paid online surveys that you can complete in your free time for extra cash.
Most surveys take 10 to 15 minutes to complete. They also have an option for redeeming points or withdrawing your money through PayPal if you don't want to get free gift cards.

Click here to join Survey Junkie
Pinecone Research
Pinecone Research is a trusted survey site that rewards you for product testing, answering online surveys and completing trial offers. They send out email alerts whenever new surveys are available. You earn $3 per survey. You can receive cash or redeemable points.
Join PineCone Research and start earning $3 per survey!
Harris Poll Online
Harris Poll Online is among the oldest market research companies out there. You are allowed to share your opinions about certain products and services and earn amazing rewards in the form of Walmart or Amazon gift cards.
Click here to sign up for Harris Poll
4. Swagbucks Gift Cards
Swagbucks is a popular rewards program known for giving away free gift cards online. You can earn Swagbucks gift cards by searching the web, taking paid online surveys, completing promotional offers, watching videos or shopping through the Swagbucks portal.
Performing such tasks will earn you "SB" points that accumulate in your Swagbucks account. 1000 points can easily get you a $10 Swagbucks gift card to Starbucks, Amazon, Target, BestBuy, Nike or other retail stores.
I love Swagbucks because they've partnered with leading retail stores countrywide. This makes receiving your rewards super easy.
They also have a free $5 sign up bonus.
Let's check to see if Swagbucks is worth it!
Click here to claim your $5 bonus
5. Get free Gift Cards from Rakuten
Rakuten is an awesome cashback site that sends you a $10 Walmart gift card when you sign up.  Just get a free Rakuten account here then make your first purchase and the free gift card will be all yours.
Not only that, shopping frequently through Rakuten will earn you up to 40% cashback on all of your online purchases.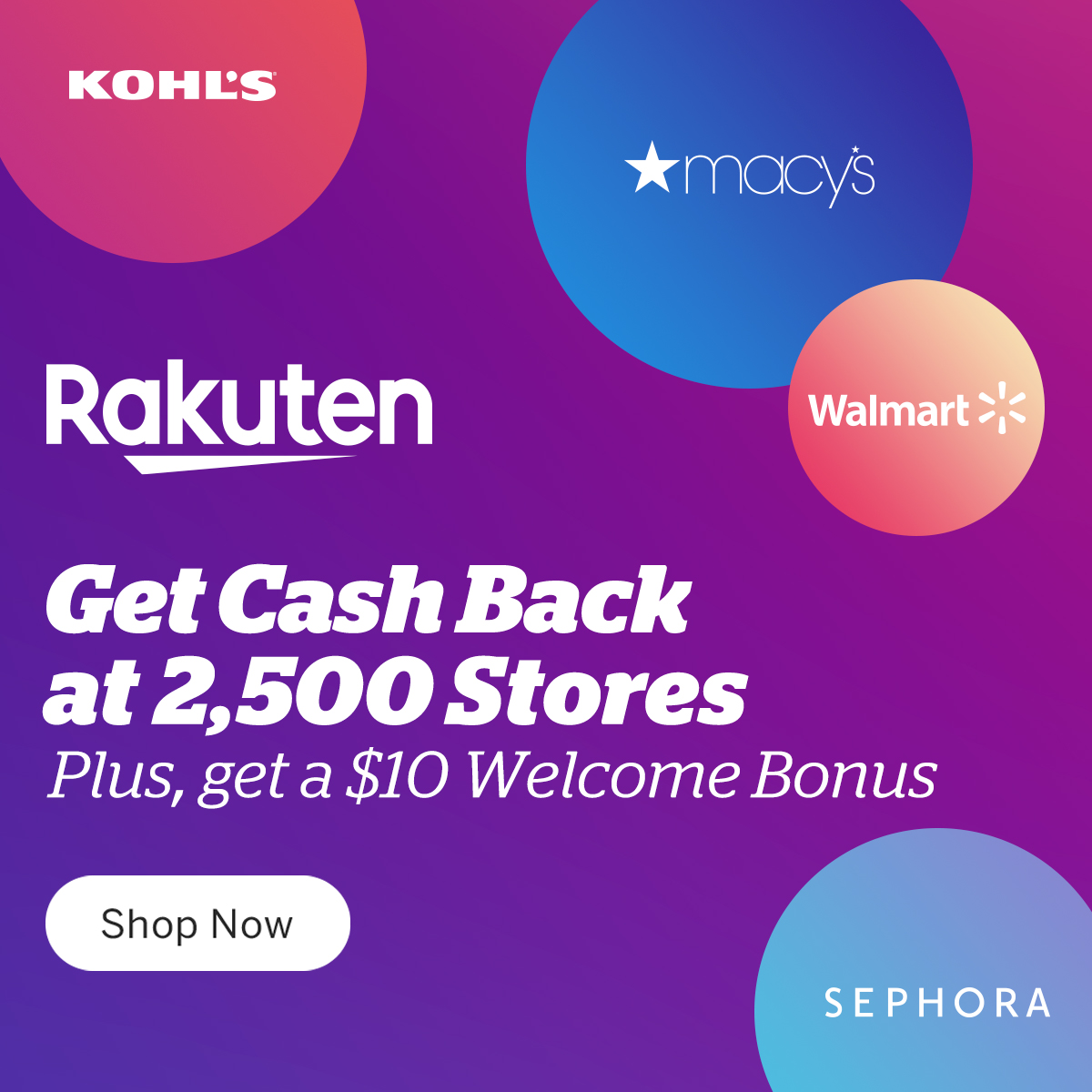 Worried that you may forget to shop through Rakuten and miss out on these sweet deals?
Download and install the Rakuten browser extension here. You will be alerted of upcoming deals and discounts whenever you shop on a website that's partnered with Rakuten.
If you've been searching for how to get free gift cards online without completing offers then Rakuten is also a great alternative to Drop, just like we discussed earlier.
Want to learn more about Rakuten? Feel free to check out this Rakuten review that explains in detail how Rakuten works, the partnerships they have, the pros and the cons of using this cashback shopping site and how all this can benefit you.
6. Get PrizeRebel App
PrizeRebel app is an awesome free gift cards app that you can use to get lots of rewards.
The PrizeRebel app will send you amazing rewards for completing paid online surveys, signing up for promotional offers, or watching videos.
For every task that you complete, you earn points redeemable for PayPal cash or Amazon gift cards.
It's 100% free to join PrizeRebel and you get to choose which rewards are perfect for you. You can claim Amazon, iTunes or  Walmart gift cards.
Click here to install the PrizeRebel app
7. Earn Free Gift Cards Using Honey Extension
Honey is a cashback app that can help you win free gift cards instantly just like we talked about Drop. The Honey app will automatically find and apply coupon codes on your purchases when you shop online.
Installing the Honey chrome extension is quick and easy. Just takes a few seconds to do.
Click here and install the Honey Chrome extension then shop like you normally do. Honey will work behind the scenes to get you the best deals online then automatically apply coupon codes to your cart at checkout.
Honey has partnered with thousands of stores in the United States, Canada, Australia, United Kingdom, and India so as to give you legitimate free gift cards.
You will get instant savings including free gift cards from purchases you make at Amazon, Sephora, Groupon, Nike, Forever21 among others.
The Honey app allows you to pay less for things that you're already buying online.
Click here to install the Honey Chrome extension
8.  Get More Gift Cards from InboxDollars
InboxDollars is a company that has been around since 2000. They've paid out over $10 million to its members and have a FREE $5 sign up bonus that goes straight to your account when you sign up.
You can earn Amazon or Visa gift cards by searching the web, reading emails, watching videos or taking surveys from home.
Click here to receive your FREE $5 bonus from InboxDollars!
If you are in the UK and can't access the US gift cards, you can sign up for an InboxPounds account here and get gift cards from the UK.
9. Amazon Trade-In Program Has Free Gift Cards
If you have used items around the house that you no longer need, you can exchange them for Amazon free gift cards using the Amazon Trade-In Program. 
Popular Trade-In categories are textbooks, cell phones, and video games.
I love how easy it is to see the value of each item that you have for sale. And they also tell you upfront if an item qualifies for a trade-in or not.
If everything goes well and your trade-in value has been paid, you can see the amount by viewing the gift card balance.
Click here to join the Amazon Trade-In Program
10. Amazon Mechanical Turk
Amazon Mechanical Turn is a website that can send you Amazon gift cards if you complete short tasks called HITS (Human Intelligence Tasks).
These tasks can involve writing, searching the web, translating documents or typing audio files. You have the right to choose which jobs or tasks to complete.
When you are done, you submit the work and the client (requester) goes through your work and if everything is satisfactory, Amazon Mechanical Turk will credit your account accordingly.
This is another great way to get free gift cards without completing offers or taking surveys.
They do not use other payment methods like Payoneer or PayPal. You only get free gift cards from Amazon but it's still worth the effort.
What Are Your Favorite Ways to Get Free Gift Cards Online?
Have you received free gift cards before? Know other ways to get free gift cards online that I've not mentioned in this post? I'd love to hear from you. Leave a comment below
Liked this post? Share it on Pinterest!
Virginia Nakitari is a full-time blogger and a work from home expert. Join Virginia and 200,000 monthly readers on EarnSmartOnlineClass to learn how to make money online, even as a beginner. Before starting this blog, Virginia worked as a freelancer, specializing in general transcription and virtual assistance. Her wide clientele comprised of business coaches, podcasters, bloggers, and other online entrepreneurs. It's through these interactions that Virginia developed a knack for writing and showing people how to work from home, make money online and attain financial freedom.