There's nothing quite as discouraging as coming up short of your bills on any given month. Which one should you skip? Or should you finally pull the plug on all entertainment like cable, internet, and smartphone data?
Thankfully, you shouldn't have to do any of those things. I've compiled a list of realistic ways to make $500 fast.
All you have to do is get online and complete a few simple tasks that can earn you some quick cash!
Many of these opportunities (like paid online surveys) can be done in your free time, and some can even make $500 a day in 20 minutes of work. (But to make that kind of money will take a lot of time upfront in order to build a recurring income later.)
Disclaimer: This post contains affiliate links, which means I may receive a small commission, at no extra cost to you, when you make a purchase. Please, read our affiliate disclaimer or privacy policy for more information.
How to Make $500 Fast (14 Free & Quick Ways)
If you're extremely determined and ready to put in the work, it's possible to make $500 today from a few of these ideas.

Survey Junkie is a free survey site with over 5 million members. Survey Junkie will pay you real money to answer surveys from the comfort of your home.
Most surveys take 10 to 15 minutes to complete and you can take them in your free time. While it's possible to earn $500 per month taking surveys, you'll have to put in some elbow grease to get there.
Survey Junkie also has a $2 sign up bonus when you create an account and complete your profile.
Click here to create a free Survey Junkie account and make sure you provide the correct information. Surveys are normally sent via email. If the email is wrong, you will miss them and you won't make any money.
For every survey you complete, you will earn points redeemable for free gift cards or PayPal cash.
Answering surveys won't make you rich but they can fetch you an extra 500 dollars this month.
Join Survey Junkie and Start Earning Today!
Other survey sites for money I highly recommend are:
2. Install the Nielsen Mobile App & Earn $50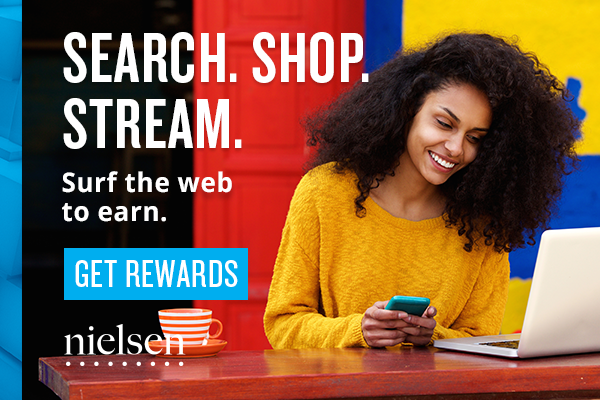 Love browsing the internet? You can claim $50 today from Nielsen Consumer Panel. Nielsen is an awesome website willing to pay you $50 yearly to have their app installed on your devices.
It could be a tablet, a smartphone or a laptop. It doesn't really matter what you use. Just have the Nielsen app installed and you will earn the $50 continuously.
Try Nielsen Computer & Mobile Panel!
Then, check out this Computer Mobile Panel Nielsen review to learn more.
3. Get $500 Quickly from ZippyLoan
Another faster way to get $500 is to take out a personal loan. ZippyLoan is an awesome website that can easily get you $500 in one day.
All you need to do is just go to the ZippyLoan website then answer a few questions like your contact details and the amount of money you need. You also get the opportunity to check the offers and decide if they are what you need.
I love ZippyLoan because it is a financial platform that connects borrowers and lenders and you can borrow between $100 and $15,000 as soon as tomorrow!
No need to search for "I need 500 dollars by tomorrow" because ZippyLoan is here to help.
ZippyLoan offers low-interest rates and you can service your loan for a period of 60 months. How cool is that?
Click here to visit ZipplyLoan and get your $500 today!
4. Make 500 Dollars in a Week from DoorDash
Food delivery companies are always looking for drivers to deliver food to customers on their behalf.
A company like DoorDash will pay you up to $25 per hour to make food deliveries your home town or locations near you.
If you work 5 hours per day, that's $125. You multiply that by 4 days and you have your $500.
If you've been wondering how to make $500 dollars in a week, now you have your answer. It's possible to earn money in a week realistically.
Click here to go to the DoorDash website and find out how you can start earning $500 this week!
Read: DoorDash Review: Get Paid $750 Per Week to Deliver Food.
5. Join InboxDollars
InboxDollars is a trusted company that's been in existence since 2000. This awesome company will pay you money to watch videos of cute cats or cooking shows.
They have a FREE $5 sign up bonus and you can make $500 by searching the web, taking paid online surveys, playing online games or reading emails. They've paid out $10 million so far to its participants.
Try InboxDollars Today!
Related: More Sites That Offer a PayPal Sign Up Bonus
6. Get Cashback from Rakuten
Rakuten is a cashback website that's partnered with over 2,000 online stores to give you 1% to 40% cash back on ALL your online purchases.
And that's not all. You can make 500 dollars through the Rakuten referral program.
If you've got lots of friends who do online shopping you can refer them to Rakuten and make $25 per person.
No much work is needed on your part. You simply refer people to the website and earn FREE money whenever a new person signs up using your affiliate link, and there is no limit of the number of people to invite. You can invite as many people as you like.
Got friends and family who want cash back? Check out these other cashback online shopping websites.
Try Rakuten for FREE and Get $10 Bonus!
You might also read: Rakuten Review 2019: Is Rakuten Legit or a Scam?
7. Walk Dogs & Make $500 a Month
If you love playing with pets especially dogs, you can grab petting sitting jobs from Rover and earn more than $500 per month.
Rover is a relatively new app that connects dog owners with dog sitters/walkers. I love Rover because it gives you the opportunity to set your own hours and decide how much you want to be paid for each sitting.
Rover has a wide range of services that you can offer as a dog sitter/walker. You can choose dog boarding which involves caring for a dog overnight in your home.
Dog boarding offers the highest earnings. Dog owners are willing to double the amount they pay for other services.
We have the dog walking, doggy daycare, and house-sitting or drop-ins where you check up on pets from time to time.
Ready to get started with this side hustle?
Click here to sign up for a free Rover account then create your profile. In the profile, give detailed information on the types of dogs you want to care for and show your availability.
Once you complete this process, you will start receiving requests from pet parents.
Rover really cares for their pet sitters and for every task that you complete, they will send you your payments in just 2 business days.
Click here to start walking dogs for cash!
8. Sell Stuff on Declutter
Declutter is an awesome website that can make you money by selling your phones, tablets, DVDs, CDs, Blue-rays, or video games.
Selling here is pretty easy. You just scan the bar-code of your items for sale and the app will tell you how much you can sell the items for.
One thing I love about Declutter is that shipping is free and you get your money within 2 days of shipping the products. They will send you a check or direct deposit into your bank account.
They also have an extra 3% bonus. Click here to receive your extra 3% bonus on trade-in.
9. Use a Free Money-Saving Bot
If you think about it, saving money is a way of making money. Think of the hundreds or even thousands of dollars you lose every year on subscriptions you rarely use or don't need.
Trim is an awesome app that can negotiate your Comcast bill, cancel unnecessary subscriptions, and even find you better insurance.
Interested in saving money?
Just connect your financial accounts to Trim and let the app do the hard work of saving money for you.
Getting started with Trim is quick and easy. It's 100% free.
Try Trim Today!
10. Join Fiverr & Earn $500 in a Week
Offering your freelancing services on Fiverr can be a great way to bring in extra cash fast. Joining Fiverr is quick and easy. Takes 5 minutes max and you can set up your services and start earning as early as today!
You sell your services starting at $5 but there is room to charger more per order, up to $1,500 on larger projects.
I worked for Fiverr for a number of years and I earned $500 in a week.
Click here to learn more about the earning potential of Fiverr!
11. Find Out if Stores Owe You Money
Did you buy stuff recently and the prices of those items dropped? It's time to get the extra money back. You can use this cool app called Paribus to get your refunds.
Paribus is a free app that scans your emails for any online purchases across hundreds of retailers. When they find a price drop on an item(s), they work hard to ensure that you get the extra cash back.
You don't even need to know that there is a price drop. You'll just receive the refunds once the whole process is over. How cool is that?
With this unique tool, you could earn $20 to $100, or you could even make $200 fast.
12. Become an Airbnb Host
If you have an extra room in your house that you don't use, you can rent it out to guests using the Airbnb app and make up to $200 per week.
Not sure how to go about it?
Just head over to Airbnb and look around. Airbnb will even tell you how much you can earn per month in your side of town.
For example, Airbnb is telling me that my side of town can earn me up to $756 per month. That's extra income I can get every single month for taking just a few simple steps.
I love Airbnb because it's free to join and very easy to create a listing. Guests are pre-screened before coming and they pay before they arrive.
You don't have to worry about them not paying because Airbnb makes sure that you get your money via PayPal, direct deposit, or international money transfer.
Click here to find out how much you can make in your area and list your room to start earning today!
13. Earn Money Passively at Lending Club
Lending money is a genius way to make money doing nothing as long as you have the money to invest.
Thanks to Lending Club, you won't be lending money the old fashioned way, which involves a lot of risks. Lending Club is an awesome website that connects borrowers with private investors.
As an investor, expect an investment return of 6-10% in interest rate. It is less risky because Lending Club allows you to lend as little as $25 per person.
14. Add Some Extra Cash to the $500 Using Slice the Pie
You can also make money fast today by reviewing music at Slice the Pie.
Slice the Pie is a paid music reviewing site that pays you to give honest feedback on uploaded music. You will earn cash on every review you leave.
They do this to help upcoming musicians to know what the crowd thinks of their songs.
Your reviews must be well thought out and in good English. Generic reviews will be rejected and you won't get paid.
Slice the Pie also has a referral program and you can earn money by referring others. You will receive a cash bonus every time they review music.
This is a legit company that pays via PayPal twice a week.
Click here to start earning cash on Slice the Pie.
Then check out the best Udemy courses to make money and lots of it!
How to Make 500 Fast When You Need It Now
If you're looking for ways to make $500 fast without doing any work, then this is not the place for you.
In fact, unless you have thousands of dollars to invest, then you'll need to put in at least 20 minutes per day in order to earn some extra money each month.
Set aside sometime each day to put toward reaching your income goals. You'll be glad you did when you can finally stop living paycheck to paycheck and start enjoying a few extra pleasantries in life.
Liked this post? Pin It on Pinterest!
Simple Ways to Make $500 Fast
Virginia Nakitari is a full-time blogger and a work from home expert. Join Virginia and 200,000 monthly readers on EarnSmartOnlineClass to learn how to make money online, even as a beginner. Before starting this blog, Virginia worked as a freelancer, specializing in general transcription and virtual assistance. Her wide clientele comprised of business coaches, podcasters, bloggers, and other online entrepreneurs. It's through these interactions that Virginia developed a knack for writing and showing people how to work from home, make money online and attain financial freedom.