This post contains affiliate links, which means I may receive a small commission, at no extra cost to you, when you make a purchase. Please, read my affiliate disclaimer for more details.
Having mentors and learning from their experiences is the easiest and most effective way of ensuring online success as a Professional Transcriber.
Having that in mind, I took the liberty of interviewing highly qualified and most sought-after transcribers of our time. They are fast, effective, successful and they get the job done the right way the first time.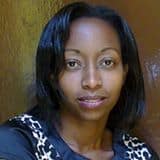 Allow me to introduce to you Sheeroh Kiarie. A professional transcriber and blogger with insider tips and solid advice that will leave you asking for more. Check out her website at workonlinekenya.com.
There is lots to note down. So, get your pen and paper ready. Let's get started!
Virginia:  How did you get started in transcription?
Sheeroh:  I had been a stay-at-home mom for a while and after some time, I started having a deep desire to contribute to the income of our household. I wasn't sure of the business I wanted to venture into, but right about that time, my mom mentioned to me that she knew a lady who used to do typing work for a German. I then Googled typing jobs on the net and that is how I came to find out about transcription.
Virginia:  What type of files do you handle on a day to day basis?
Sheeroh: 8 out of 10 times, I usually handle interviews and lectures, and thankfully, they are mostly very clear audio files.
Virginia:  Do you accept multiple speaker files and/or files with foreign/heavy accents?
Sheeroh:  I'm okay transcribing up to three speaker files. But if the pay is really good, I accept files that have even more speakers. My favorite accents are American but I also accept Australian and British. I subcontract a lot and I don't like to take files that will take too much time unless the pay is really good.
Virginia: And, what has your experience been like handling those types of projects?
Sheeroh:  What I like about dealing with multiple speaker and heavy accent files (when I do accept them) is they have a way of sharpening your listening skills. When I started out, I used to work for an Indian transcription company, and I transcribed quite a lot of files that had mostly Japanese, Taiwanese and Chinese speakers. What I didn't know then was that my listening skills were becoming more and more refined.
Virginia:  Do you handle verbatim or non-verbatim projects or both? How has your experience been like?
Sheeroh:  I prefer non-verbatim projects. They usually don't take much time and as we well know, time is money!
Virginia:  What medium do you use to receive work? Email, Dropbox, FTP? Why that medium?
Sheeroh:  I ask my clients to send me files via Dropbox. It's very easy to use, and convenient. I love that I can easily share files with my transcribers when I'm outsourcing work to them, via the Dropbox app on my phone.
Email, and Google Drive are great options too. Clients also send me short files, about 4MB sized files, through Odesk and Elance.
Virginia: Do you use the same medium to return finished work (transcripts) back to the client?
Sheeroh:  I always send the transcripts through Odesk or Elance. I simply upload them as a docx. File.
Virginia:  How frequent do you communicate with the client?
Sheeroh:  When I receive a file from a client, first thing I do is inform the client that I want to have a listen to the audio file. Once I listen to it and confirm that I can confidently submit an excellent transcript, I confirm the same to the client. I will then communicate with the client when I'm almost done, and inform him that I'll be sending the file shortly. I learnt that it's important to keep the client in the know.
Virginia:  What payment methods do you use to receive your funds from the client?
Sheeroh:  I love Skrill. The fact that I can withdraw my hard earned money from oDesk or Elance to Skrill, and then from Skrill to Mpesa, is just amazing. It's fast, cheap and convenient. I also use PayPal, but very infrequently.
Virginia:  Do you work on Freelancing sites like oDesk, Elance, Fiverr and Freelancer? If yes, how has your experience been like?
Sheeroh:  All my clients are from Odesk and Elance. When I started out, I worked for a transcription company and the deadlines were not flexible at all. So what I love about these freelancing sites is that the clients give me very flexible deadlines, and sometimes, there are no deadlines at all. The clients also pay well and I am able to increase my hourly rate. Just last year, around October, I increased my hourly rate and I'm planning to do the same around June.
Virginia:  Do you accept private clients?
Sheeroh:  I'm very wary of working with clients away from the two platforms I have mentioned but I do have one private client.
Virginia:  If so, do you sign a Non-Disclosure Agreement?
Sheeroh:  I'm always happy to sign a non-disclosure agreement as long as the terms are clear.
Virginia: What tips can you offer newbies while handling private clients?
Sheeroh:  My take for newbies is it's better to deal with clients via freelancing sites such as Odesk and Elance, since the said sites have ways of protecting freelancers and one such way is the Escrow system. But if you really feel you need to work with a client outside that system, then check their profile. See whether the client has a good reputation before you take him or her up as a private client.
Ask for an upfront payment. At least 20% to cover the risk. Before you sign an NDA, make sure you read it carefully.
Virginia:  Do you outsource? Yes or no?
Sheeroh:  Yes. All the time. In fact, I rarely transcribe nowadays. Outsourcing is a great way of leveraging yourself. When you do all the work by yourself, you're only able to do so much. Example, it takes me about four to five hours to transcribe an hour of audio. Within that same time, I can proofread four to five transcripts, maybe of a one hour audio. You earn more that way.
Virginia:  If yes, how do you go about it?
Sheeroh:  When I started out, I would outsource through oDesk. When I started training others on transcription, I realized that there were people who had lots of potential and from then on, begun to outsource work to my trainees. When I want to hire someone on oDesk, I ensure that I check their profile, what feedback they have received from past clients, and if they don't have any feedback, I send them a short test and if they do it well, then I'll hire them.
Virginia:  Is transcription your full-time income generator or do you have other sources?
Sheeroh:  Apart from transcription, I also have a transcription training ecourse. I also just launched my new eBook- – Online jobs: What You Need To Know About Working Online. I have a blog too which I've been working on very part-time but intend to work more on it this year. My blog is workonlinekenya.com
Virginia: What challenges have you faced as a professional transcriptionist?
Sheeroh:  Some audio files are really difficult/poor quality and such files take a long time to transcribe, as one has to keep rewinding to avoid having too many inaudibles. Some clients will send you such files and still expect to pay the same rate as a good quality file. I have learned that the price cannot be the same.
Some clients take too long to pay. In my experience, they haven't been many but once in a while, I have encountered a client who disappears only to resurface after about two weeks to release the funds.
As I work a lot on oDesk, some clients will hire you and fail to end the contract, even after you have submitted work. When you have too many open jobs, it might discourage other clients from hiring you. It becomes a challenge because if you end the contract, it is likely that you might not receive any feedback/rating from the client.
Virginia: What advice would you give new and aspiring transcriptionists?
Sheeroh:  If you can get trained, please do so. You can train yourself via Google or YouTube, and as a matter of fact, I did that. But when you get trained by a professional, you'll gain the skills needed for the job and the much needed support from a mentor. You won't have to jump from one website to another gaining bits and pieces of info.
This is a serious job. If you do it like a hobby, you won't go far. Take it seriously and soon enough, you'll earn enough money to not only pay your bills but save and invest too.
This is not a get-rich quick scheme. That is an attitude that makes many newbies give up too soon. This is a business just like any other and it takes time to learn and start earning.
Invest in good headphones. Since transcription work takes time one hour audio will take a newbie 7-8 hours to transcribe it's important to get headphones that are comfortable, durable and quality. Some headphones can even make your ears and head hurt if they are too heavy or don't have cushioned ear pads.
Invest in a good chair. Transcription can take time as I said before, especially when you're transcribing long audios. Get a chair that has an adjustable height. Your shoulders, your arms and your neck should be taken good care of.
Transcription is about precision listening. Even when you're transcribing an audio file and you can't make out a word, don't be too quick to mark it as an inaudible/unclear word. Rewind severally. A professional transcriber puts in her all to ensure that the file she sends to the client has zero or minimal inaudible tags. It may not always be possible to submit a transcript that is 100% accurate but it is important for the client to see that you put in effort to send him or her a high quality transcript that is readable.
 And there you have it folks.  Solid advice from a Professional Transcriber who understands what it takes and what it means to deliver top-notch transcripts that meet her client's needs every time.
If you liked today's post Like My Facebook Page for more Transcription updates. I believe you will love the many useful tips, resources and transcription companies that I post there.
Virginia Nakitari is a full-time blogger and a work from home expert. Join Virginia and 200,000 monthly readers on EarnSmartOnlineClass to learn how to make money online, even as a beginner. Before starting this blog, Virginia worked as a freelancer, specializing in general transcription and virtual assistance. Her wide clientele comprised of business coaches, podcasters, bloggers, and other online entrepreneurs. It's through these interactions that Virginia developed a knack for writing and showing people how to work from home, make money online and attain financial freedom.