This post contains affiliate links, which means I may receive a small commission, at no extra cost to you, when you make a purchase. Please, read my affiliate disclaimer for more details.
If you have a blog that's receiving a decent amount of traffic, you should look for the best affiliate programs for bloggers to monetize. If not, then you will be leaving so much money on the table.
We have amazing affiliate programs out there that will be happy to pay you for your hard work.
Today, I want to help you locate the best affiliate programs for bloggers. But, wait…
What is an affiliate program?
An affiliate program is a program that pays you commissions when you promote a merchant's products or services.
Many people neglect affiliate marketing because they feel that it is a waste of time, and others don't even know what it is or how it works. If you feel that it's a waste  of time, I'm here to prove to you that affiliate marketing works.
Money earned from affiliate marketing is passive income. I call it passive because you are not exchanging your time for money. This is income you can earn at 2:00 am in the morning, when having fun with your friends or even when on vacation.
If you want to learn more about passive income, check out this post on the 17 Passive Income Ideas You Can Start Today.
Now, let's have a look at the best affiliate programs for bloggers that you can take advantage of starting today to increase your blog income.
affiliate marketing programs for beginners
We have lots of affiliate marketing programs for beginners. If you are new and just starting out, I would highly encourage you to start here. You can earn referral commissions even if you don't have a huge following.
#1. Rakuten Refer-A-Friend Program
Rakuten is a cashback website owned by Rakuten Marketing and can earn you great referral commissions if you have lots of friends or a huge following.
Once you join the Rakuten affiliate program, you will get $25 for every new customer that joins through your affiliate link.
They have a $25 payout threshold that you must meet before withdrawing your funds, and they pay on a quarterly basis. Reaching this threshold won't be  that difficult if you have a huge following.
Click here to join Rakuten and start earning today!
#2. Shopify Affiliate Program
Shopify is an e-commerce platform perfect for selling products online. If you want to set up an online store or start a drop shipping business, Shopify is the tool to use.
They also have the Shopify affiliate program which offers high affiliate commissions  to bloggers.
Here's a breakdown:
You will earn the first two months of a customer's paid subscription fee (which is about $598) on standard plans and 100% bounty which pays $2,000 for new Shopify Plus referrals.
Earning referral income from Shopify is easy. Just join the Shopify affiliate program  then wait for your account to be approved. Once it's been approved, a unique affiliate link will be sent to you. Use that link to promote Shopify to your audience. You can do this on your website, on social media or even in YouTube videos.
Click here to join the Shopify affiliate program and start earning money today!]
#3. Bluehost Affiliate Program
Bluehost is a reputable web hosting company paying $65 for every new customer sign up. They have committed affiliate managers who are ready to offer you support and personalized advice.
They paid out over $5 million in commissions in 2017 alone, and a blogger like Michelle Schroeder-Gardner of Making Sense of Cents earns over $40,000 from the Bluehost affiliate program.
Click here to join the Bluehost affiliate program and start earning passive income!
#4. Swagbucks Affiliate Program
Swagbucks is a trusted paid-to website that can earn you money in so many ways. I've covered this, at length in the 8 ways to Make Money with Swagbucks. Feel free to check it out.
If you refer people to Swagbucks and they starting earning points, you'll get 10% of all those points. How cool is that?
You can redeem those points for gift cards or PayPal cash.
And, that's not all, you will receive a FREE $5 sign up bonus if you register for the first time!
Click here to receive your $5 welcome bonus!
#5. Teachable Affiliate Program
Teachable is an online teaching platform perfect for course creators and bloggers. When you join the Teachable affiliate program, you'll start earning monthly recurring income.
They will be sending you 30% recurring commissions for one full year, for all the new customers you send their way. The money you earn will be deposited straight to your PayPal account. No questions asked.
Click here to join Teachable and start earning monthly recurring income!
#6. ConvertKit Affiliate Program
ConvertKit is a popular email service provider that pays 30% recurring commission for every new customer they get through the ConvertKit affiliate program.  They also say that if a customer upgrades their account to a level that pays more, your commissions will also go up.
Click here to join the ConvertKit affiliate program today!
#7. Tailwind Affiliate Program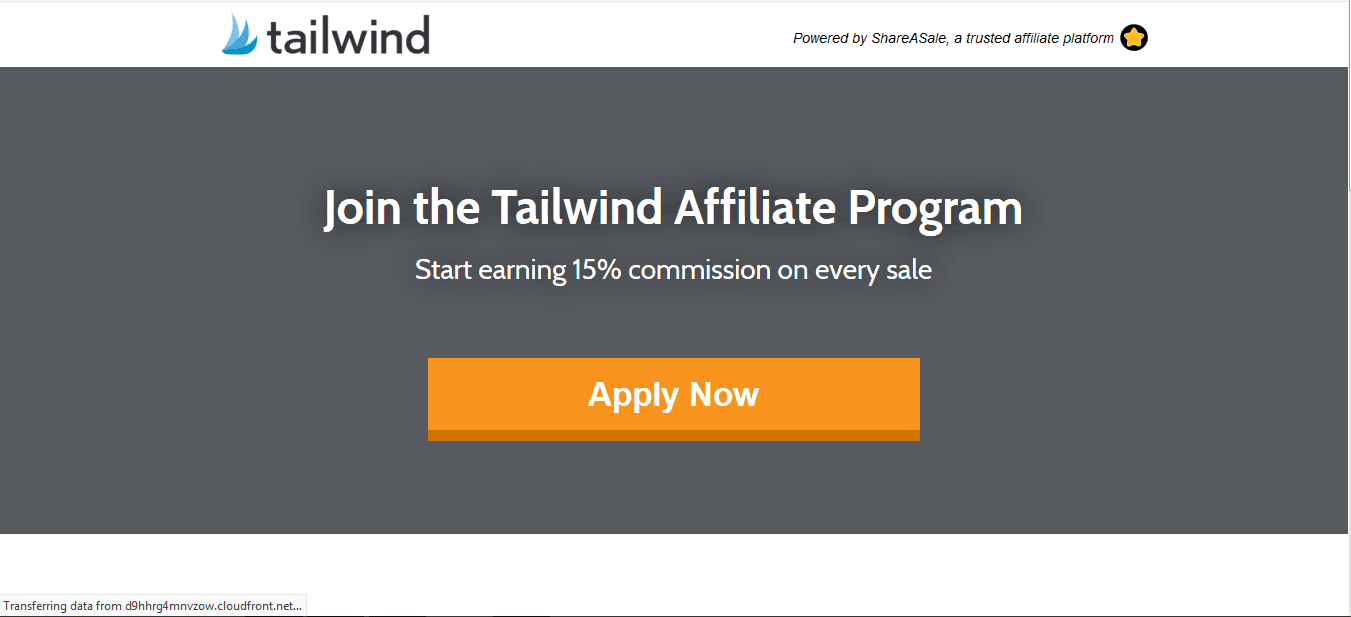 Tailwind is a Pinterest scheduling tool that can earn you 15% recurring commission on every sale that they get through your affiliate link. They have a 90-day cookie that allows you to get the 15% on all the transactions.
Want to use Tailwind yourself? Get the 1-Month FREE trial here.
Want to become an affiliate?
Join the Tailwind affiliate program and start earning monthly income!
Best Affiliate Programs for Bloggers
#8. iGain
iGain is among the best affiliate programs dedicated to connecting advertisers and publishers in maximizing their earning potential. They have a dedicated team ready to serve you 24/7.
iGain is my favorite affiliate website right now. I love how responsive their customer support is. The affiliate managers respond on time and will help you out whenever you have a query.
I highly encourage you to join the iGain affiliate program if you want to promote survey-based offers.
UPDATE:  I recently  joined the Panthera Network. It's similar to iGain and has lots of cash surveys that you can take advantage of starting today.
Click here to find out more about Panthera Network!
My best performing affiliate programs from iGain are:
#9. FlexOffers 
FlexOffers is a top affiliate program similar to iGain. They've been in business for over 10 years and won the 2016  top 10 best performing affiliate programs.
They have a huge list of products that you can promote no matter the niche that you are in. I love how easy and user-friendly their dashboard is. You are able to see how much traffic or impressions you are getting from your offers and how much money you earn every single day.
Another cool thing that's made me love FlexOffers is their recent partnership with Payoneer for easy access of funds. This is good news, most especially for people who reside outside the United States.
These are the products I promote on FlexOffers:
#10. Share-A-Sale
Share-A-Sale is among the high paying affiliate programs that's been in business for over 18 years now. They have a ton of pay-per-click and pay-per-sale offers that you can take advantage of.
Whether your niche is fashion, cooking or gardening, you still are at the right place. They have all sorts of affiliate programs to fit your type of audience. So, why don't you give Share-A-Sale a try today?
I'm yet to sign up with this affiliate network but a few of the good offers you can find here are:
#11. MaxBounty
MaxBounty is a well known cost per action (CPA) affiliate marketing website that connects publishers (affiliates) with advertises just like we've seen with iGain, Share-A-Sale or FlexOffers.
They've been in business since 2003 and offer a wide range of products that you can promote. If you are a new blogger, I would encourage you to start with the survey offers. They are easy to promote and will earn you money the quickest.
While signing up to the MaxBounty affiliate program, their application process was a bit strict.  I filled out the form with all the information accurately filled in. Then, one of their affiliate managers scheduled me for a Skype call where I had to answer a bunch of questions regarding the niche I was in, traffic sources I was going to use, and things of that nature.
After that, my account was approved and I started promoting affiliate products almost immediately.
Click here to join MaxBounty and start receiving monthly payments!
#12. VigLink
VigLink is among the best affiliate marketing websites that automatically convert your existing outgoing links into affiliate links on a blog.  They have access to lots of affiliate programs all over the world.
You don't need to get signed up with any of the affiliate programs directly. VigLink takes care of everything by connecting and tracking affiliate links from all those affiliate networks automatically.
Join VigLink here and start earning from home!
#13. Amazon Associates
Amazon is one of the largest online marketplaces for selling just about anything. Bloggers and online sellers love Amazon because it's highly reputable and has been around for the longest time.
They have over a million products that you can promote to your audience. You do this through the Amazon Associates affiliate program that can earn you up to 10% in advertising fees.
And that's not all, if a client gets to a product page, through your link, but skips it and buys a different product(s) instead, you get a commission for that or those other products, as well. How cool is that?
Want to become an Amazon affiliate?
Click here to become a member and start earning affiliate commissions!
#14. Rakuten Marketing Network
Rakuten is another amazing affiliate website that's been voted number 1 for 7 consecutive years. The Rakuten Marketing affiliate network connects advertisers with publishers to reach new audiences and encourage repeat purchases.
It's easy to get set up. Just go to the Rakuten affiliate program sign up page then fill in your contact details. You will receive an email containing your username and password that you will be using every time you want to access affiliate offers to promote
They work with global brands like:
Wal-Mart
Sephora
Macy's
Best Buy
Join Rakuten and start promoting offers here!
#15. ShopStyle Collective
The ShopStyle Collective affiliate program offers beginners an opportunity to make money online the easy way.
This is a pay-per-click affiliate program that rewards you every time a visitor clicks on a product through your affiliate links.
Most affiliate programs will pay you when a customer buys, but with this program, you earn from the clicks. So, the more clicks you can refer to ShopStyle Collective the more money you make.
Another really exciting fact about this affiliate program is that, you don't need to have a website to earn. If you have a substantial amount of followers on social media platforms like Pinterest, you can start earning right away. There is a way to promote their products directly without needing a blog or a website.
Christina Root makes over $ 6,000 by promoting affiliate offers directly on Pinterest. She has a really detailed FREE e-course on Teachable that shows you how to make money by promoting affiliate products just like she does.
Want to know more about this business model? Check out her paid e-course that goes deeper into building a profitable Pinterest business.
ShopStyle sign up process is really easy. Just go to the ShopStyle affiliate program sign up page then fill in your contact details. You will receive a username and password that you can use to access the dashboard.
They have a $100 payout threshold that you must meet before withdrawing your funds to your PayPal account.
#16. Creative Market
Creative Market is an online marketplace used to sell products like vector patterns, photos, WordPress themes, fonts etc. When you become a Creative Market affiliate, you earn 10% of every purchase new customers make for a full year.
Another interesting angle to this is that, when the customers you referred come back to buy from Creative Market again, you get 10% commissions on those other purchases, as well. Join the Creative Market affiliate program today
#17. CJ Affiliate by Conversant
CJ Affiliate by Conversant was re-branded a while back from Commission Junction. This one of the oldest affiliate programs that works with world's best brands. Once you sign up, you will be assigned an affiliate manager who will help you get set up. They pay once a month and have a $25 payout threshold.
#18. Awin
Awin is a global affiliate network that empowers advertisers and publishers to grow their online businesses. It was started in 2000, has 13,000 advertisers, 100,000 publishers and generated $148 million in 2017 alone.
They won a good number of awards for their excellence in service delivery, and one worth mentioning is the Blue Books Top 5 CPC Networks in 2017.
#19. Peerfly
PeerFly is a fast growing affiliate network with over 4,000 live offers that you can promote and start earning as soon as today. This is a great CPA (cost-per-action) website perfect for beginners. In other words, you get paid for every action that your visitor performs on PeerFly.
Want to know how to make money from PeerFly?
Sign up here for PeerFly offers and get started today!
Quick Tips to Help You Find the Best Affiliate Programs
1. Make sure that they are related to your niche. Don't just take affiliate links and slap them on your website or promote them to your audience because the commissions are high. Relevance is key. Make sure the offers can solve your visitor's problems.
2.  How great is their customer support? Are they reachable via email or Skype if need be? As you will notice below, I have listed iGain as the first affiliate network because their customer support is top-notch. My affiliate manager is always on top of things. And, whenever I send her an email, she responds right away. In short, join affiliate marketing programs that have good customer support
3. How are their commissions rates, pay periods and payment methods? A company like Bluehost is amazing when it comes to commissions rates. They pay $65 per sign up as you will see below and they pay on time via PayPal. Hostgator on the other hand, takes forever to pay. Do, put this into consideration before applying to a program.
4.  A learning center. A good number of companies have training materials like tutorials and guides to help you promote the products or offers with ease.  One such company is Converkit. They have a FREE webinar that shows you how to promote their services. This is one of the reasons why I included ConvertKit on this list.
5. Read terms and conditions and be familiar with their rules and regulations. A company like Amazon is very strict when it comes to adhering to their rules. Failure to disclose that you are promoting their affiliate products and your account may be deactivated. And, we don't want that. Do we?
6. Choose 5 or 10 best affiliate programs or networks to work with. Having a thousand programs on your website is not practical and definitely not professional. You need to be focused and choose a few offers that your audience can resonate with.
---
Final Thoughts
And there you have it, folks! 19 of the best affiliate programs for bloggers to make money in 2018! You can never go wrong with affiliate marketing.
If you are not in a position to create or launch your own info-products, these top affiliate programs for bloggers will earn you money the quickest on your blog.
Know other high paying affiliate programs? Which ones are your best affiliate programs for bloggers? Leave a comment below!
Like this post? Pin it!